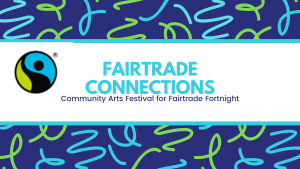 Working together to create change is what we as Fairtrade campaigners do. But this year it has been really difficult to campaign in our communities, and by the time Fairtrade Fortnight rolls round again, we will have been mainly confined to our houses., seeing each other over Zoom, for a year.
So we're working with other regions and nations of the UK to organise a Community Arts Festival for all campaigners, supporters and friends of Fairtrade around the UK.
Our arts festival will form part of a wider Festival of Fairtrade organised by the Fairtrade Foundation – you can sign up for details of the festival here.
And read the blog by Stefan Donnelly to find out how you can make a difference for farmers and workers without breaking lockdown.
We have a great programme of events lined up.
Fairtrade Connections Arts Festival Programme
Monday 22 February – 4.30 – 6pm
Caribbean chef Euten Lindsay will host a cook-along. Euten was caught up in the Windrush scandal
Download Euten's recipes here:
Sweet_potato_and_Callaloo_Galette
This event is sponsored by Pocklington Fairtrade and Local Action Group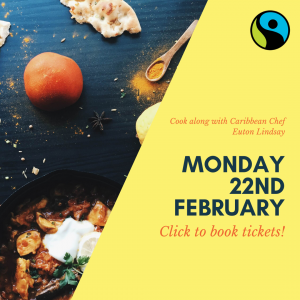 Wednesday 24 February 6-7pm
Join acclaimed photographer Sean Hawkey as he shares some of the incredible images in his latest book, Faces of Fairtrade. Sean visited Fairtrade farmers across the world and his photos reflect their fascinating lives.
You can read more about Sean's work on his website: Click here.
This event is sponsored by York Fair Trade Forum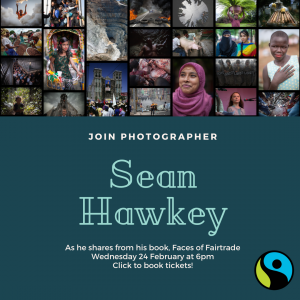 Friday 26 February – 7-8pm
Join young Ghanaian musician Richard Wiafe – who works at the Fairtrade fruit project Golden Exotics who will share his music and answer questions about his life. Richard's university studies are funded through the Fairtrade Premium.
Watch video about Golden Exotics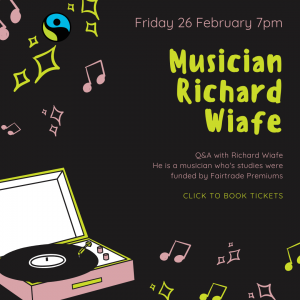 This event is sponsored by Bradford Fairtrade Zone
Saturday 27 February – 11-12am
Fairtrade Taskmaster – Join us for a Saturday morning of Fairtrade themed silliness.
This event will be fun for all the family. Compete against other families and win Fairtrade prizes.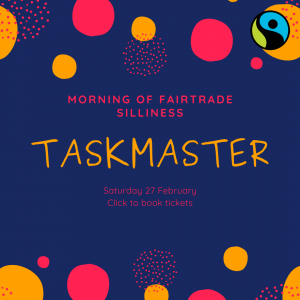 This event is sponsored by Good Taste – The Sheffield Fair Trade Shop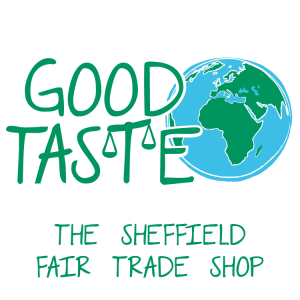 Monday 1 March 4.30-6pm
Cook along with former Bake Off contestant Sandy Docherty
Join Sandy who will share her recipe for Meat Balls in Spicy Tomato Sauce using ingredients from Fair Trade supplier JTS.
This event is sponsored by Fairtrade Leeds.
Wednesday 3 March 4-5.30
Join a chocolate truffle making workshop with David Greenwood Haigh of Coeur de Xocolat. Find out how you can use Fairtrade chocolate to create tasty truffles that are good enough to gift, or keep them all to yourself!
This event is sponsored by Bury Fairtrade
Friday 5 March – 12 -1pm
Fairtrade in a time of covid – Join Immaculate Ochieno and Kodzo Korkortsi, Shared Interest's local managers who deal direct with producers in East and West Africa to find out how Fairtrade is supporting women's empowerment and helping producers survive and thrive through covid.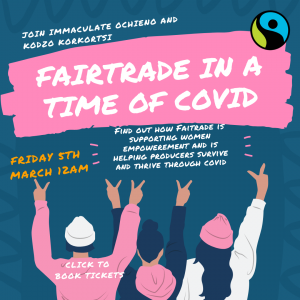 This event is sponsored by York Fair Trade Forum and Skipton Fairtrade Initiative
Friday 5 March – 7-8pm
Welsh poets Zoë Brigley Thompson and Kristian Evans, editors of "100 Poems to Save the Earth" will read from this life-afforming anthology which is due to be published in Spring 2021 by Seren Books.
They'll be joined by Yorkshire based Clare Shaw, who'll read from her third Bloodaxe collection "Flood" on the themes of this year's Fairtrade Fortnight – "Choose The World You Want" and "Fairtrade, Climate and You".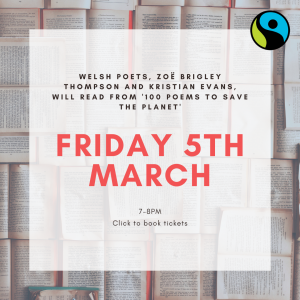 This event is sponsored by Embsay with Eastby Fairtrade Group
Saturday 6 March 11.30-1pm
Get moving and learn Bollywood and Bhangra dancing with Avtar Panesar the host of our Indian dance workshop
This event is sponsored by Warrington Fairtrade Steering Group
More events are being added all the time so keep an eye on this page and our Facebook page.
Official festival sponsors: All's Fair, Sonia's Smile, Hull Fairtrade Partnership and the National Campaigner Committee
Most of our contributors are happy to support us by donating their time free of charge but it's only right that we make a financial contribution to some – especially those joining us from the low income countries where Fairtrade works.
If you or your group would like to support the festival with a donation of any amount we're hoping to raise £750 with a Gofundme.
Donate to help make the Community arts festival happen
We can't wait to see you!