Based in Skipton, Namaste Fair Trade has a huge range of ethical, hand crafted, eco-friendly products made by skilled artisans across the world. The felt tree decorations are beautifully made in Nepal, some are definitely a bit different – I've never seen a dinosaur wearing a Christmas hat hanging on a tree before! The stars made using recycled saris are a favourite of mine.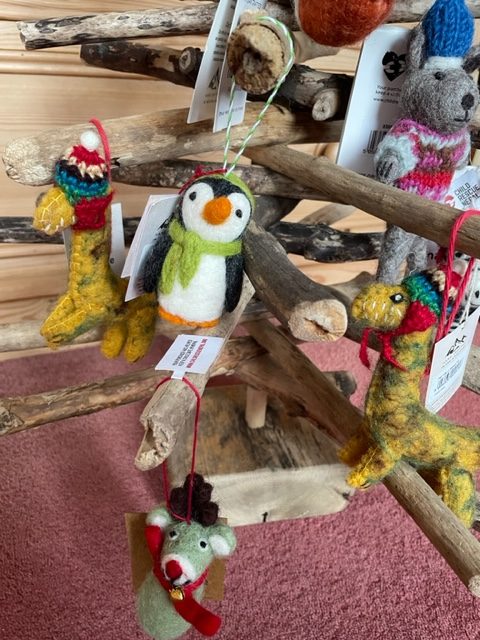 Who doesn't enjoy lighting a candle at this time of year? There are so many to choose from – scented ones in tins, floral and colourful ones in coconut shells, sets of tiny ones in ceramic hearts, cats, dogs and elephants!! I love them all.
Soapstone message pebbles are perfect to give as a gift and keep in a coat pocket. All are inexpensive and the latest yellow heart shaped 'Bee happy' pebble is gorgeous.
Definitely something for everyone – and for retail and wholesale customers.
The sales team couldn't be more helpful and friendly. So, with free deliveries over £50 and no minimum spend for a wholesale account, what's stopping you getting the generous discount for bulk buying – e.g. a six dinosaur pack to share with family and friends or for your Fairtrade stall.
Take a look for yourself: Home | Namaste Fair Trade | Namaste-UK Ltd
Liz Roodhouse, Chair of Skipton Fairtrade and Fair Trader.