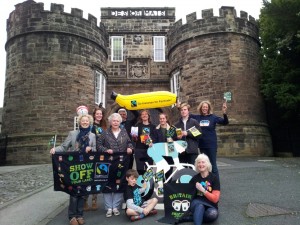 After much hard work and commitment by Skipton Fairtrade Initiative, Skipton has officially been designated as a 'Fairtrade Town'.
This is a significant event in a campaign to raise awareness of ethically produced and traded goods to both the public and local businesses, which first began, in a small way in the town, almost 15 years ago.
It is just fourteen months ago since the present group, chaired by Liz Roodhouse, Coordinator of Craven Development Education Centre in Skipton, and comprising Councillor Eric Jaquin, Dawn Brailsford, Fairtrade Coordinator at Skipton Girls' High School, Chantelle Conlan, Fairtrade Coordinator at South Craven School and several members of local churches, was convened to prepare an application to the Fairtrade Foundation.
A number of goals were required to be met to gain Fairtrade Town status.
The resolution passed by Skipton Town Council to support the initiative and to serve Fairtrade tea and coffee at its meetings and in its offices was applauded by the Fairtrade Foundation as being a 'comprehensive and firm commitment' and 'really encouraging'.
Other goals were to gain the support of local shops and catering outlets that sell and serve Fairtrade products and to encourage local employers and community organisations, such as faith groups, schools and colleges, to use them.
In addition, the group was required to organise events to involve public participation and stimulate press coverage, in order to promote knowledge and interest in the aims and principles of Fairtrade.
In its feedback to the application, the Fairtrade Foundation particularly commended the group for its hard work and wrote: 'It is great to see such a long-standing campaign which has continued to innovate through time and undoubtedly reached a great many people in Skipton.' The Fairtrade trail created by Skipton Girls' High School was praised as a brilliant start to creating a Fairtrade Directory.
The Fairtrade Foundation concluded by warmly congratulating the Skipton group for 'a fantastic achievement'.
Cllr Chris Harbron, Leader of Skipton Town Council, said: 'The Council is absolutely thrilled that Skipton has achieved Fairtrade status in such a comprehensive way. The Council would like to thank and congratulate Liz and her group for the hard work done over the last fourteen months to achieve the accolade. We look forward to continuing our support in the coming years.'
While expressing the group's delight at the successful result, Liz made it clear that this was only the first step in strengthening Skipton's commitment to Fairtrade. 'We are already considering ways to develop and enhance our campaign and broaden its appeal,' she said. 'Now we've been granted this recognition and status for Skipton, we certainly don't intend to lose it!'