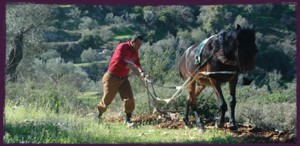 For Fairtrade Fortnight this year Yorkshire will be playing host to Fair Trade producers from Palestine. Palestinian olive growers Manal Abdallah and Abu Rafat Odeh, will speak about the Fair Trade company Zaytoun.
Zaytoun is a British based community initiative aimed at enabling marginalised Palestinian olive farmers to access new markets by importing and distributing their products in the UK. In the groves of Palestine, Zaytoun's producers grow and preserve olives and extract olive oil using traditional methods.
The olive growers face serious political and economic threats to their livelihoods; in the face of all the difficulties, Zaytoun strive to offer a sustainable future for their producers.
The farmers will be visiting schools in the Craven area and visiting the Fairtrade Fair at the University of Leeds.  There are also public events being held in Bradford, Keighley and York.