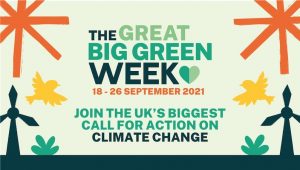 Fairtrade campaigners across Yorkshire are getting involved in activities for the Great Big Green Week, demanding action to combat climate change, in advance of the United Nations climate change conference (COP 26) which will be held in Scotland.
The Fair Trade movement has a strong focus on sustainability. Its aim is to provide sustainable livelihoods to the benefit of poor communities and to the natural environment.
Liz Roodhouse, the coordinator of the Skipton Fair Trade Initiative, has been working alongside many partners to produce a Great Big Green Week programme in Craven District.
There is a wide variety of activities including give and take days, an incredible edible walk, green crafting and an online question and answer session on 'Facing up to Environmental Challenges' with Myfanwy Trueman of Craven U3A. The Facing up to Environmental Challenges event is on Tuesday 23rd September at 7.30pm on Zoom. Email liz@cravendec.org.uk for the link or for any other information about the Big Green Week activities in Craven.