Update: Tuesday 15 September
The latest International Guide to Fair Trade Labels 2020 Edition has been released.
While this looks at both Fairtrade and Rainforest Alliance Standards it does not contain Rainforest Alliance in its list of Fair Trade Labels, instead classing it as a Sustainable Development label. Nevertheless, campaigners have been asking for a simple side by side comparison of the two marks so we have produced a document which attempts to do this. It is not exhaustive and has not been produced under rigorous academic conditions. It is simply a way of broadly comparing the standards of the two marks. All the material comes directly from either the International Guide or from the websites of Rainforest Alliance or Fairtrade.
Rainforest Alliance Fairtrade comparison
You can download the full Rainforest Alliance 2020 standards from their website here.
And download the full FLO standards from their website here.
Update: Wednesday 2 September
Watch the video from the Ivorian Fair Trade Network (RICE) showing how important Fairtrade is for farmers
Update: Thursday 23 July
With the petition now standing at over 275,000 signatures, Nestle has met Joanna and Mark, current and previous Co-ordinators of Fairtrade Yorkshire. Before the meeting we asked some of the signatories what they wanted Nestle to hear. One comment in particular stood out:
My great-great grandfather, Henry Isaac Rowntree, started H.I.Rowntree & Co, later Rowntree & Co. Remind them that KitKat was a Rowntree product and that Rowntree was a Quaker firm, based on Quaker principles of fairness and honesty. Fairtrade matches those principles. The farmers who produce the cocoa for Nestle are as much their workers as those directly employed and are owed a duty of care.
Key Points
Nestle's plan is for all their cocoa to be independently certified as sustainable by 2025. Because they have been working with Rainforest Alliance and UTZ – which have now merged and will be called Rainforest Alliance – they have chosen to work only with them in the future. This means their relationship with Fairtrade on KitKat will end in October 2020. We asked if the implementation could be postponed until after the pandemic, but the answer was "No."
Around 10,000 cocoa farmers who form 8 co-operatives in Cote d'Ivoire currently supply Fairtrade cocoa to Nestle. Around half of these already have both Fairtrade and Rainforest Alliance certification. When a company buys cocoa from a Fairtrade farmer they don't have to buy it on Fairtrade terms. They must do so if they wish to use the Fairtrade mark on their packaging, but until the last decade it was not unusual for farmers to have to sell most of their crop on non-Fairtrade terms. In October 2020 it is likely that some or many of the farmers who are currently only Fairtrade certified  will not have had chance to gain Rainforest Alliance certification. Nestle has agreed that it will help pay for these farmers to gain certification and for those who have not yet achieved it, they will pay a premium on the 2020 harvest – not the Fairtrade premium, but a lower Rainforest Alliance premium. The Rainforest Alliance plans to introduce a minimum premium of $70 per tonne by 2022. At present they require buyers to pay a sustainability premium but there is no minimum. In contrast the Fairtrade premium is set at $240 per tonne.
Nestle says it will end up paying $180 per tonne in premiums. This is lower than the $240 per tonne Fairtrade premium. The Fairtrade premium is paid direct to co-operatives where the money is allocated based on a democratic vote. Nestle has promised to give Fairtrade Yorkshire a breakdown of the $180 premium – how and to whom it is paid and who decides where it is spent.
The key feature of the Fairtrade system is the minimum price guarantee. Currently this is $2400 per tonne. It is likely that the price of cocoa – plus the legally required Living Income Differential – will not drop below this for the 2020 harvest. But in 2017 cocoa prices dropped by 40%. Farmers will not be able to plan long term if they cannot guarantee what price they will receive for their harvest. Bear in mind that on average cocoa farmers in Cote d'Ivoire earn just 74p per day.
Nestle also appeared before the All Party Parliamentary Group on Fairtrade whose co-Chairs, Holly Lynch and Jason McCartney both represent Yorkshire constituencies. They covered all the same concerns as we did in our meeting but also raised the concern that if, as a lot of the petition signatories suggest, people start to boycott KitKat because they are no longer Fairtrade, workers in Nestle's Yorkshire factories which produce KitKat are at risk of losing their jobs which, particularly in the current employment climate, would be devastating.
Read the the APPG's press release
Keep KitKat Fairtrade campaign
Kit Kat was invented in York in 1935. A billion bars a year are still made in the city and Nestle has offices here. From its earliest  beginnings in York, Rowntree like many of the city's Quaker chocolatiers was known as a good employer, providing pay, working conditions and housing and healthcare far beyond what other employers at the time were doing. Fairtrade now does the same thing for people who live in desperate poverty in low income countries growing the food we eat. Which is why we in Yorkshire were delighted when in 2010 Nestle announced that KitKat – its best selling brand – would bear the Fairtrade mark, meaning all the cocoa and sugar which Nestle sources for KitKat is bought on Fairtrade terms.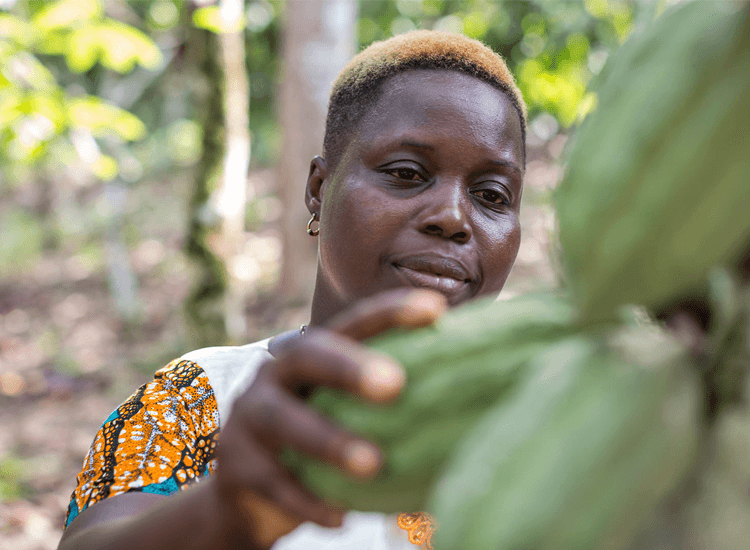 In the past ten years, cocoa farmers in Cote d'Ivoire, like Rosine who visited Yorkshire in March, and sugar farmers in Fiji and Malawi have benefited from increased prices and community premiums which have transformed their lives and the lives of their families. Nestle intends to source all its sugar from European sugar beet farmers which means around 10,000 small scale sugar farmers losing out. The brand plans to continue buying from its cocoa farmers but not on Fairtrade terms which means 16,000 farmers losing the premiums which they allocate democratically based on their communities' needs. It's undemocratic and risks sending the message that cocoa farmers don't deserve to make decisions about their own lives.
The Black Lives Matter protests have successfully brought the issue of violence against people of colour into mainstream conversation. Black lives matter wherever those lives are lived and reducing the already low incomes and right to self determination of some of the poorest black people in the world will be devastating.   To take and implement this decision in the middle of a global pandemic is unconscionable.
The Association which represents fair trade producers in Cote d'Ivoire have written a letter to Nestle to  ask them to reconsider. You can read more including the letter here.
You can read Joanna's opinion piece in the i newspaper here.
Please sign the petition to Keep KitKat Fairtrade and share it widely with your networks.
UPDATE; Friday 3 July – We now have over 240,000 signatures on the petition. Thank you to everyone who's signed and shared.
The Ethical Trading Initiative published an interesting blog post about the issue. Is Nestle Building Back Worse?
Nestle has published this page on its website to deal with the issue.
My comments: Rainforest Alliance is a really good organisation, and for cocoa brands which don't currently have any independent certification for their suppliers, it's a good choice to ensure their farmers are Rainforest Alliance certified. Lots of farms – coffee as well as cocoa – are "triple cert" – Fairtrade, Rainforest Alliance and Organic, and the majority of farmers who currently supply Nestle on Fairtrade terms will already meet Rainforest Alliance standards. From September, Rainforest Alliance will be applying new sustainability standards. This will coincide with Nestle's move to Rainforest Alliance.
However, Nestle is moving away from the more rigorous Fairtrade certified cocoa standards to Rainforest Alliance. Having the same symbol on all your products might be tempting from a branding point of view but it doesn't help the farmers who will be paid less for their work.
"Our aim is not only to make sure farmers receive a fair price for their cocoa but to also make sure that we are tackling key social and environmental issues including child labour and deforestation." 
Fairtrade has always been about much much more than paying a fair price to farmers. Tackling social and environmental issues is also at the heart of Fairtrade, and tackling the endemic problem of the worst forms of child labour on West African cocoa farms has always been one of the guiding principles of Fairtrade. Rainforest Alliance's new sustainability standards focus on child labour and deforestation after some criticism about certifications for farms which were encroaching on rainforest (ironically) in Cote d'Ivoire.
"Farmer income is based on some variables that we do not control. This includes the annual price of cocoa, which the Ivorian and Ghanaian governments will only confirm shortly before the new cocoa year begins, as well as the portion of the Fairtrade premium that the farmer receives, as this is decided by each individual cooperative. The amount we spend on premiums and investment in additional projects with the farmer cooperatives in the year ahead will significantly exceed the Fairtrade premium we would have paid."
This is the key paragraph for the farmers who will be working with Nestle. With Fairtrade there is a minimum price for cocoa guaranteed at $2,400 per tonne. This has been calculated to cover the cost of production and applies whatever the market price for cocoa happens to be. So if Nestle really wanted to guarantee what price they pay their cocoa farmers they could continue with Fairtrade. Recently the governments of Cote d'Ivoire and Ghana introduced the Living Income Differential which adds $400 per tonne to prices paid for cocoa grown in these countries, regardless of who the buyer is. The money is put into a pot to compensate farmers when the cocoa market price falls. This will mean that the price should be more or less the same as the Fairtrade minimum for the next couple of years, but if there is another collapse like 2017 when prices dropped by 40% this will severely impact farmers.
The Fairtrade premium is paid directly to the farmer who pools it with other cocoa farmers in her community and they decide democratically how their community should best use it. There is no need to explain what they plan to do, to apply for the money. This is their money and Fairtrade understands that they know best how to spend it. The Fairtrade premium is $240 per tonne – 30% higher than the $180 per tonne Rainforest Alliance premium which Nestle says it will be paying. Nestle has committed to extra payments over the next two years but communities need to be able to rely on a steady income long term. What Nestle is proposing feels more like charity than fair trade.
The elephant in the room is sugar. Nestle has made commitments to the cocoa farmers but none to the sugar farmers. The decision to source all their sugar from European sugar beet will have a devastating effect on sugar farmers like these in Fiji whose plight Australian media are reporting.
For more information about the differences between Fairtrade and Rainforest Alliance certification – and others, you can download the International Guide to Fair Trade Labels by clicking below.
international-Guide-to-Fair-Trade-Labels-2020-Edition