A brilliant idea from Jane at Harrogate Fairtrade. The old red phone box in St Hilda's road was slated to be removed, but the local community took it over as a community library. Known as the Saints Community Library, it offers passers-by an opportunity to take, swap and return.
The phonebox is set up for Fairtrade Fortnight with over 90 books related to 45 Fairtrade-producing countries. These are books by authors from the countries, or about/set in the countries. Each book has an information panel inside, relating it to the products from the countries. The plan is to change the books regularly to reflect themes like Red Nose Day and Pride.
This is an example – Malala Yousafzai's book is paired with a story about Fairtrade footballs made in Pakistan: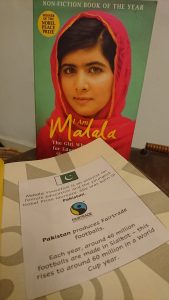 Jane Kennerley, along with friend and neighbour Holly Jones, adopted the Phonebox from BT just before Christmas and Fairtrade Fortnight is their first official "event".
Jane says: "The Phonebox is known as "The Saints Community Library" and is a popular focal point and resource for our community. We are planning to renovate the box and include more shelving and a noticeboard, so next year we hope to be able to provide even more information."