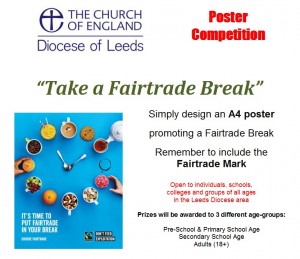 The Diocese of Leeds is holding another poster competition for 2017's Fairtrade Fortnight, promoting this year's theme: "Take a Fairtrade Break".
Simply design an A4 poster promoting a Fairtrade Break – and remember of course to include the Fairtrade Mark!
The closing date is March 20th, and prizes of Fairtrade Easter eggs and certificates will be awarded to 3 different age-groups: Pre-School & Primary School Age, Secondary School Age, and Adults (18+). Entry is open to any individuals, school or college and groups of all ages in the Leeds Diocese area.
Entries should be sent by post to Mrs Barbara Judd, 57 Grosvenor Road, Shipley BD18 4RB. The name of the artist, their age-group and their organisation should be written on the artwork, so that each piece is clearly identifiable – and do provide contact details so that they can get in touch if you are a winner.
To get the inspiration flowing, why not check out the Fairtrade Foundation's pages on the theme of a Fairtrade Break?
Good luck to all who enter!