Climate change is the biggest challenge facing humanity.
Fairtrade Fortnight 2021 had the theme Climate, Fairtrade and You and featured a huge range of online events with a focus on how climate change is affecting farmers and workers in low income countries.
You can watch many of these events on YouTube here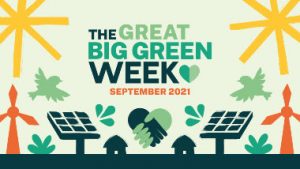 Great Big Green Week 18-26 September 2021
How Green Is Your T-shirt?
The problem
The fashion industry accounts for 8% of all climate emissions, more than the entire economies of the UK, France and Germany combined. And most of it is completely unnecessary. In the UK we buy four times as much clothing as we did in the 1990s. Even then it's estimated that around 30% of all the brand new garments in UK shops – garments made by people working for poverty wages in low income countries – is never even sold. Imagine working really hard to bake a cake, and when you hand it over, a third is simply rejected and thrown in the bin. How would that make you feel?
Climate change and fair trade are inextricably linked. The effects of climate change are being felt now in the low income countries where fair trade organisations, farmers, workers and artisans operate.
The background
In October 2019 Fairtrade Yorkshire took part in the Fairtrade Foundation's Make Your Mark challenge, creating the Fairtrade mark in the form of a human mosaic featuring almost 200 volunteers in Hull's Trinity Square.

The image is great and enduring. It is used regularly in Fairtrade Foundation communications. The aim was a zero waste event. Dozens of crafters were involved in knitting and crocheting hats for the volunteers, which were later donated to a local charity working with homeless ex service people. The sky blue T shirts and hats were part of the uniform of the Absolutely Cultured volunteers (a legacy of the Hull City of Culture in 2017). The black T shirts were official Fairtrade mark T shirts and have been used to great campaigning effect in the months since, including when Joanna and volunteers from York Fair Trade Forum and Fairtrade Yorkshire staged a Day of Action at the Nestle factory in York.
But the 44 green T shirts – Fairtrade cotton, sustainable and ethical but only worn once. For less than half an hour. Not sustainable. A bit of a waste. What to do?
The project
The Great Big Green Week is an initiative from the Climate Coalition – an umbrella group of organisations which campaign on climate, the environment and human rights. The Fairtrade Foundation is a member.
Groups are encouraged to host events across the week in September highlighting the need to tackle the climate emergency.
For more details visit: https://greatbiggreenweek.com/
How can you help?
This summer dozens of textile artists, crafters, fashion students and artisans are busy upcycling the green Fairtrade cotton T shirts to create pieces of wearable art with a message about climate change, fair trade and you.
The garments will be gathered together and styled with fair trade clothing from WFTO and BAFTS members and accessories, second hand and "model's own" clothing – after all, the most sustainable item is one you already own. We're recruiting a diverse cohort of models – different body shapes, race, age, disability, gender – and putting on a fashion show during the Great Big Green Week in September. The event will be livestreamed on the WFTO website and an edit will be available for supporters and campaigners to share and use in their own climate and fair trade campaigning.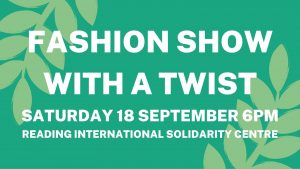 You can download the project brief here:
How Green Is Your T Shirt project brief
Timeline:
Launch – Monday 19 April – Fashion Revolution Week
Summer – Get crafty!
31 August – deadline for return of T shirts to Joanna
Fashion Show – Saturday 18 September 6pm
Reading International Solidarity Centre
35-39 London Street
Reading
RG1 4PS
Great Big Green Week: 18-26 September
If you would like to get involved please email Joanna.aztecarts@gmail.com
For inspiration see this amazing video from charity a-dress: https://youtu.be/rHwtAJplV4M