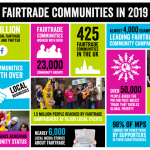 Fairtrade Fortnight events are going on all over the region.
NORTH YORKSHIRE
27 February – 6pm – SOFA SESSION Spurriergate Centre, York. This is our flagship event for Fairtrade Fortnight 2020.
Speakers include: Cocoa farmer Rosine Bekoin, Rachael Maskell, York Central MP, Sarah Wakefield, Food Sustainability Manager, Co-op, Sophi Tranchell, Managing Director of Divine Chocolate, Sophie Jewett of York Cocoa House and the Fairtrade Foundation's Julia Nicoara, Director of Public Engagement.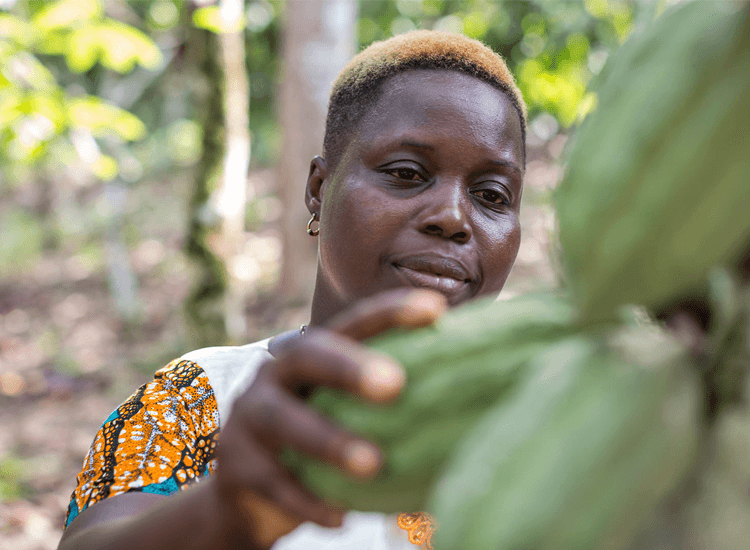 Rosine Bekoin, a mum of five, is one of the 25 percent of women in Côte d'Ivoire who does own her own land. She runs a 2.5-hectare farm, which she inherited from her mother and is a member of CAYAT cocoa co-operative. Rosine used to sell her cocoa to local middlemen but struggled to make a decent living. After joining the farming co-operative CAYAT, she received training in quality and good agricultural practices helping to increase her production by 50 percent. This was a welcome boost to her income, which she put towards building a new house. She also found the training on women's rights as part of the Women's School of Leadership transformed her entire outlook on life, and has seen her advocate for other women ever since.
Rosine Bekoin, said: "Before the Women's School of Leadership, I was full of doubts. I've never been to school before, and I can't even speak French properly. On the first day, I couldn't understand anything. On the second day I thought, if I look inside myself, I have potential. Then I woke up and I joined in. Today, I'm strong. I've changed all those misconceptions, and I can stand proud and say I am capable and can do things on my own. Before I was an invisible woman. I'm so grateful I was taught about what was hidden inside ourselves. I am a leader today for many people because I am very confident."
Now, through her role as secretary of the women's society, Rosine is helping more than 400 women who are collectively investing their Fairtrade Premium in income diversification projects, such as a communal vegetable garden. Growing food crops to sell locally provides a good source of additional and independent income, particularly for the women who don't own land. Ever entrepreneurial, the group is expanding into chicken rearing too, which has a positive effect for their fellow farmers. They are able to buy bags of organic fertiliser produced from the chickens at a much reduced rate.
Click here to download the poster: FF20_Flagship_events_leaflet_York
Click here to download the press release for this event.2. Press release She Deserves regional events
28 February 10-30 till 12noon BIG BREW Fairtrade coffee morning at Fylingthorpe Methodist Chapel.
28 February – 1-2pm – FAIRTRADE TEA WITH COUNCILLORS – Celebrating 10 years of Scarborough as a Fairtrade Town, Scarborough Town Hall
29 February – 10am FAIR TRADE & LOCAL CRAFT FAIR Friends Meeting House, Malton
29 February – 9.30-1.30 POP UP SHOP & ACTIVITIES Skipton Library
29 February 10.00a.m-12.00noon FAIRTRADE COFFEE MORNING at Cayton Methodist Church, Scarborough.
29 February 2.00pm-4.00pm FAIRTRADE AFTERNOON TEA St Andrews URC, Ramshill Road, Scarborough.
6 March – 7pm FILM SHOWING The Kite Runner, Clements Hall, York
7 March 10.00a.m -11.30a.m. FAIRTRADE COFFEE MORNING at Scalby Methodist Church, Scarborough.
EAST YORKSHIRE
18 February – 9.45 COFFEE MORNING All Saints Church, Pocklington
26 February 10-12 FAIRTRADE CELEBRATION Guildhall, Hull
3 March LORD MAYORS TEA Guildhall, Hull (invitation only for local campaigners)
WEST YORKSHIRE
22 February – 10-1 BIG BREW St Edmunds Church, Leeds
1 March – 8.45 – 9.45 BREAKFAST Bradford Cathedral – Book your place here.
4 March – 5.30-7.30 FAIRTRADE KIRKLEES GALA Huddersfield University Book your ticket here.
5 March – 6.30-8.30 CURRY NIGHT WITH FAIR TRADE KILOMBERO RICE The Flying Duck, Ilkley  £6 per head. Contact hils38@aol.com to book.
7 March – 10.30-1.30 COFFEE MORNING Methodist Centre, Chapel Allerton, Leeds
7 March – 10-3 FARTRADE STALL Albany Arcade, Halifax. Poetry Competition winner to be announced at 11am by Holly Lynch MP.
7-8 March 11-3.30 POP UP FAIR TRADE STALL The Gallery at The Manor House, Ilkley
19 March – 11-3.30 FAIR TRADE FAIR Leeds University
SOUTH YORKSHIRE
26 February – 7-9pm PALESTINIAN FARMER VISIT  Showroom cinema, Sheffield. Find out how Fairtrade helps Palestinian farmers growing for Zaytoun.
THROUGHOUT FAIRTRADE FORTNIGHT
Skipton based fair trade company Namaste is donating £1 to Child Rescue Nepal for every £10 spent during Fairtrade Fortnight. Click to visit their website