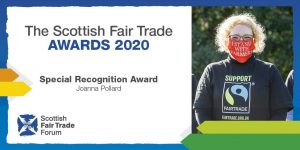 Our Co-ordinator Joanna Pollard was honoured to receive a Special Recognition award at the Scottish Fair Trade Awards on Monday 16 November, for her work on the Nestle campaign. Here are her thoughts:
"I worked with Martin and especially Colleen from the Scottish Fair Trade Forum on the Nestle campaign and after recently participating in virtual workshops with the Forum and reporting to the Scottish Parliament's Cross Party committee on Fairtrade, I feel like I've been adopted as an honorary Scot. But it was still a wonderful surprise to receive this award alongside such brilliant Scottish fair trade campaigners. As an independent fair trade retailer it was particularly good to see so many of Scotland's fair trade shops being honoured at what is a particularly tough time for shops but Rainbow Turtle, Gavin's Mill, All Things Fair and The Emporium of Worldly Goods are stepping up to the challenge of 2020.
For my own part, I was incredibly touched and delighted to hear my friends and colleagues – Colleen, Emina from Fair Trade Wales and in particular my "wing man" Stefan from the Fairtrade Foundation (and originally Northern Ireland, giving us the full set!) with their wonderfully – almost embarrassingly – effusive praise and memories of a summer spent collaborating, brainstorming and organising. I loved hearing that Stefan looked forward to our weekly meetings as the highlight of his week – and our daily email conversations were always creative, productive and supportive, even when I was having a wobble.
Here's what Emina had to say in a pre-recorded video from her home in South Wales
It was fantastic to collaborate with such generous, enthusiastic and driven people, and I really look forward to working together again in the near future. This award may have my name on it but it's for everyone involved in the campaign from the York Fair Trade Forum members who stood with me at the gates of Nestle on 1 October to all the 285,000 supporters who signed the petition. But most importantly the award is dedicated to the cocoa farmers in Cote d'Ivoire who we were fighting for. Their video was shown as part of the ceremony and their professionalism, passion and commitment to Fairtrade are so clear. The Found Poem video (featuring MSP Colin Smyth) has it right – "People matter". Fair trade is all about people supporting one another, connecting wherever in the world we are, putting ourselves on the line for each other. It's about standing up for one another – standing with farmers when their livelihoods are at risk. It's about sharing generously, caring passionately and believing in one another. All skills we have had to learn during the pandemic, to keep each other safe. Skills my fair trade tribe have consistently shown they have in spades.
I've learnt so much this summer but the most important thing is that with the right people around us we can achieve anything. Collaboration, imagination and motivation are vital but making sure you bring each other joy, keep each other smiling,  and have each other's backs are most important of all. I feel honoured and privileged to have worked on this campaign and with these people. People matter."
See all the winners on the Scottish Fair Trade Forum website