Fairtrade campaigners in York went bananas as they called on Tesco to stock more Fairtrade. Members of the York Fair Trade Forum assembled at Tesco's Clifton Moor superstore on Friday 12th December and, with the help of a 5 metre long inflatable banana, drew attention to the campaign: 'Asda and Tescos make your bananas Fairtrade.'
The campaigners were joined by the Fairtrade Councillor for the City of York, Linsay Cunningham-Cross, who handed over letters to the Duty Manager calling for the Tesco store to stock more Fairtrade bananas.
The Fairtrade Foundation's 'Asda and Tescos make your bananas Fairtrade' campaign has been launched as bitter banana price battles between the UK's biggest supermarkets are trapping vulnerable farmers and workers in poverty.
Over the past 10 years, the price supermarkets charge for our loose bananas has halved, whilst the cost of producing them has doubled, leaving many banana farmers and workers caught below the poverty line.
Asda and Tesco are two of the biggest bananas sellers in the UK and major players in this price war. Thousands of farmers and workers grow the millions of bananas they sell each year, yet less than one in ten of these bananas comes with Fairtrade certification, which research shows is the best independent assurance that those who produced them were protected from the pressure of low prices.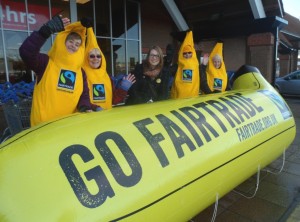 Sainsbury's, Waitrose and The Co-operative have already acted to give their customers confidence that they're not squeezing their farmers and workers – 100% of the bananas they sell are Fairtrade certified. Asda and Tesco, selling less than 10% Fairtrade, lag a long way behind.
We need to know that farmers and workers aren't paying the price for our cheap bananas. Asda and Tesco are negotiating their banana contracts right now so it's important to act quickly.
Ask them to go Fairtrade today – send a message to your local store now