Skipton's Fairtrade group and Fairtrade businesses celebrate renewing Skipton's Fairtrade Town status.
It's nine years since Skipton Fairtrade Initiative formed and since then the group has gained Fairtrade Town status by achieving the five statutory goals, and renewed the status three times, most recently just a few weeks ago. Keeping the campaign momentum going was challenging during the pandemic so the renewal had definitely to be celebrated in style. Breakfast at Tiffany's became breakfast at Elsworth Kitchen!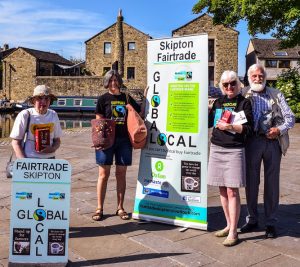 Members of the town's Fairtrade group and representatives from two of the three Fairtrade businesses based in Skipton, and the Councillor member of the Embsay with Eastby Fairtrade Village group, were able to join in. On the menu were Fairtrade tea and coffee and delicious banana pancakes- the bananas were grown in the Dominican Republic, the world's second largest producer of Fairtrade bananas, where fair prices and the Fairtrade Premium have transformed communities. In the words of Ramon Vargas, a small scale producer there, "Being part of this system means that I've been able to make my banana business profitable. This is because Fairtrade enables me to sell all my fruit at a fair price, throughout the year. Fairtrade has also helped the community by providing health insurance for farmers and their families". After the pancakes sampling the new range of Fairtrade chocolates from Whitakers was an added bonus.
Working with Namaste, who are wholesalers and retailers of fairly traded home accessories, furnishings, furniture, gifts, incense, clothing, accessories, and jewellery, based at the Mill in Marton Street; Whitakers Chocolates, a family firm since 1889; From the Source, an ethical Fair Trade importer wholesaler and retailer with a shop on Coach Street; and the Manageress of the town's general OXFAM shop meant, in the words of the Fairtrade Foundation (the awarding body), the renewal application 'exceeded expectations'. The Fairtrade group were also praised and congratulated on their work with Skipton and Craven schools and other organisations in the town, e.g. Skipton Library.
Two former town councillors have been active and enthusiastic members of the Fairtrade group since its inception and this support has been much appreciated. Sadly one of them Alan Hickman died before this latest renewal came through. The second, Eric Jaquin, continues to be part of the group. The new Town Council representatives are Cllr Claire Nash and Cllr Winston Feather.
Future events being planned for the autumn are a Whitakers Chocolate and Fairtrade Wine tasting evening at Elsworth Kitchen, activities for all age groups during the Great Big Green Week between 24th and 2nd October, and pop up Fairtrade stalls. Acquiring Fairtrade Town signs before the end of this year is the main objective.
If anyone would like to help out on an occasional basis with events or join the Skipton Fairtrade Initiative please email liz at cravendec.org.uk  It's a small, friendly and lively group.