We were very sad to hear of the passing of Fairtrade stalwart Alan Hickman.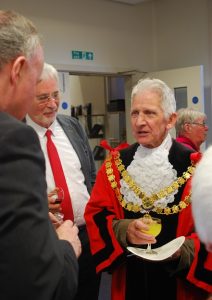 Liz Roodhouse of the Skipton Fairtrade Initiative, describing Alan as 'wonderful' commented: "He will be missed in the town and we shall certainly miss his wisdom, passion and support for all things Fairtrade."
Mark Dawson of Fairtrade Yorkshire stated: "Fairtrade could never have made the impact it has without the tireless work of people like Alan Hickman. He was an incredibly principled person but also good fun with a well developed sense of humour. I liked him a lot."
Alan was part of the original group which worked for Skipton to gain Fairtrade status. He played a full role in the Fairtrade Initiative Group including supporting Fairtrade in the town when he entered politics and sat on the Town Council.
Alan was a passionate man of faith and, he and his beloved wife Marie, proudly sported their Salvation Army uniforms on many occasions in the life of the town. Alan closely linked his Christian faith with the action for justice that he carried out, including his work for Fair Trade. He saw that faith was made real in the act of doing something to correct injustice and in showing love to our neighbours.
In addition to his work for Fairtrade, Alan was involved in many projects in Skipton, including running a Pensioners' luncheon club with his wife Marie, campaigning on political issues dear to his heart and working on the Town Council, where he was much liked and appreciated by political allies and opponents. In 2018 he was made Mayor of Skipton, a post in which he excelled, promoting the town and just causes including Fairtrade.
We at Fairtrade Yorkshire would like to express out heartfelt thanks for all of Alan's work to stand alongside marginalised producers and call for justice in our broken trade system. God bless you Alan.