Community campaigners are the beating heart of the Fairtrade movement and thousands of us up and down the country spend every Fairtrade Fortnight and beyond engaging with our local communities in high streets, village halls, churches, schools universities and steam trains. We are a diverse bunch as Yorkshire's 38 Fairtrade communities show – we campaign in the way that works best for us.
But we do all this with the understanding that we are working as a single campaigning community, with a single aim, using materials created by the Fairtrade Foundation's Campaigns Team and others to create a single message – Choose Fairtrade. It works. It empowers farmers, helping their communities. Our grassroots community movement is dedicated to supporting the grassroots community organisations who decide how their Fairtrade community premium is spent. Telling their stories is the most important and rewarding part of campaigning for Fairtrade.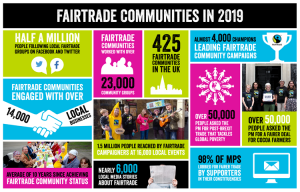 Since the first Fairtrade Town – Garstang – was announced in 2001, over 600 UK places have joined the Fairtrade Towns movement and we've made a huge impact.  In 2010  the National Campaigner Committee was set up as a way to give campaigners a democratic voice within Fairtrade. The committee is designed to represent the regions and nations of the UK and report back to campaigners. It's also designed to give campaigners a key contact – fairly local to them – who can represent their views to the Fairtrade Foundation and give feedback on campaigns.
In April 2021 Joanna Pollard was elected Chair of the NCC, following on Dr Mark Dawson, her predecessor as Co-ordinator of Fairtrade Yorkshire.
Joanna's message to campaigners on her election:
It's been a really hard year for campaigners, with many of our usual Fairtrade Fortnight activities unable to take place, but moving almost everything online gave us an opportunity to connect in ways we never imagined. In particular the possibilities of virtually visiting Fairtrade farmers and workers in their own homes – meeting them where they are, seeing how they live and work – was really special and something I'm sure we would all like to build on in the future.
This month I was delighted to be elected as Chair of your National Campaigner Committee and am looking forward to getting to know you better and strengthening the bond we have with each other and the global fair trade community, Many of you have already engaged with me at some point during the 15 years I've been involved in fair trade, whether through BAFTS, Fairtrade Yorkshire, the Nestle campaign or the Fairtrade Connections festival. It's really important to me that your voice is heard, within your local communities and at the Fairtrade Foundation, and your National Campaigner Committee will continue to support and champion the grassroots activists, supporters and campaigners who make Fairtrade such a force for good in the UK and around the world. I can't wait to get started!
Joanna is listening to Fairtrade campaigners about how the next few years will look. If you have a burning issue you want to talk about please complete this anonymous form:
The latest news from the National Campaigner Committee can be found here: