The Fairtrade Connections festival is over.
15 events
£1,233 raised in donations from almost 30 individuals, groups and organisations.
1,357 free tickets booked
741 people attended at least one event.
THANK YOU!
You can view all the events on our YouTube channel or via the Choose The World You Want festival website
Working together to create change is what we as Fairtrade campaigners do. But this year it has been really difficult to campaign in our communities, and by the time Fairtrade Fortnight rolls round again, we will have been mainly confined to our houses., seeing each other over Zoom, for a year.
So we're working with other regions and nations of the UK to organise a Community Arts Festival for all campaigners, supporters and friends of Fairtrade around the UK.
Our arts festival will form part of a wider Choose The World You Want Festival of Fairtrade organised by the Fairtrade Foundation. See it here.
And read the blog by Stefan Donnelly to find out how you can make a difference for farmers and workers without breaking lockdown.
You can see and download the resources the Fairtrade Foundation has produced to help you promote Fairtrade Fortnight here.
Media: Download the Fairtrade Connections press release here: PRESS-RELEASE
We have a great programme of events lined up.
Fairtrade Connections Arts Festival Programme
IF YOU HAVE MISSED ANY FAIRTRADE FORTNIGHT EVENTS OR WANT TO WATCH AGAIN YOU CAN DO SO FROM THE CHOOSE THE WORLD YOU WANT FESTIVAL WEBSITE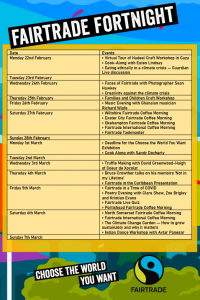 Monday 22 February 12 – 1pm
Let us take you to Palestine. Meet the makers of Hadeel's gorgeous Palestinian crafts with this – the first in a fortnightly series of virtual tours of their workshops.
This first tour takes you to the Atfaluna Society for Deaf Children in Gaza. You will learn the story of the project, how they work and the impact on their artisans, and watch them create beautiful traditional crafts LIVE.
This event is sponsored by Edinburgh Fairtrade City
This event has now ended 
WATCH THE RECORDING VIA YOUTUBE
Monday 22 February – 4.30 – 6pm
Caribbean chef Euten Lindsay will host a cook-along.
Euten was caught up in the Windrush scandal and he will be in conversation with Sandhya Dave about his life and cooking.
This event has now ended
If you missed it, you can watch the event here:
WATCH THE RECORDING NOW VIA YOUTUBE
Download Euten's recipes here:
Sweet_potato_and_Callaloo_Galette
Some suggestions for Fairtrade ingredients to use in these recipes:
This event is sponsored by Pocklington FLAG (Fairtrade and Local Produce Action Group)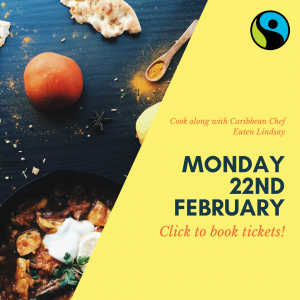 Tuesday 23 February 6-7pm
Fairtrade Campaigner Forum
This is a unique event designed to bring together Fairtrade campaigners and supporters from all around the UK.
We aren't able to hold a Supporter Conference this year, so we're missing those fantastic opportunities to meet and network in person with other Fairtrade campaigners and supporters – a chance encounter over a Traidcraft stem ginger cookie, a shared giggle over an ill positioned banana, an inspirational story of another groups' local campaign activity. Those shared moments that send us back to our Fairtrade Communities inspired to keep on with the fight.
So we're working with Brent Fairtrade Network to hold a Campaigner Forum. We're inviting campaigners and supporters to come along, share a campaign or activity you're proud of, a connection made, learn from others and go away inspired.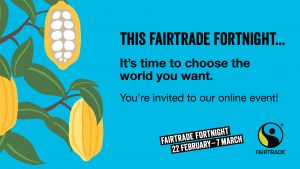 This event has now ended
Wednesday 24 February 12-1.30pm
Round Table Discussion: What's Fairtrade got to do with Fighting the Climate Crisis?
A Fairtrade Fortnight roundtable discussion exploring Fairtrade's role in tackling the climate emergency with perspectives from :
The Fairtrade Foundation
The Centre of Climate Justice, Glasgow Caledonian University
Fairtrade farmers
This event is co-ordinated by the Scottish Fair Trade Forum
WATCH NOW VIA THE FESTIVAL ON DEMAND
Wednesday 24 February 5-6pm
Choose The World You Care About
Join in this interactive session and conversation at our online event (via Zoom) and tell us why you choose Fairtrade and how you currently live or plan to live ethically in 2021.
As well as hearing your thoughts and ideas, we look forward to welcoming guest speaker, CEO of Fairtrade Foundation Mike Gidney, who's on hand to answer your burning questions!
This event is co-ordinated by the Welsh Centre for International Affairs
Wednesday 24 February 6-7pm
Join acclaimed photographer Sean Hawkey as he shares some of the incredible images in his latest book, Faces of Fairtrade. Sean visited Fairtrade farmers across the world and his photos reflect their fascinating lives.
Sean Hawkey has spent his working life in aid, development and human rights advocacy and has spent the last ten years as a journalist working across 70 countries. He is currently focusing on long-term projects in Honduras and Mexico, looking at climate change, governance and migration and he frequently undertakes assignments for Fairtrade organisations. Last year he published a photographic book called Faces of Fairtrade, a compilation of his photographs from assignments across the world.
Sean says:
"Farmers and producers are ordinarily treated with contempt in trade, if we believe in justice and being fair to other people then we must push together – as a movement – for better conditions and deals for them. That's what Fairtrade does, and that's why I support it."
You can read more about Sean's work on his website: Click here.
This event is sponsored by York Fair Trade Forum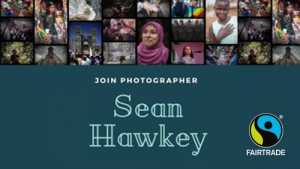 This event has now ended but you can watch our recording
Thursday 25 February 3-6
Forum for the promotion of Bird Friendly Certification in East Africa
The goal of this event is to bring together parties interested in defining a framework for the introduction of Bird Friendly coffee and cocoa certification in East Africa, and supporting cooperatives in the region to access this.
Thursday 25 February 4-5pm
Fly The Fairtrade Flag With fairandfunky!
Join fairandfunky for a creative workshop, and make your very own Fairtrade mark!
Do you know what the Fairtrade mark stands for? What does it mean for farmers and workers?
This workshop is aimed at primary age children and will help them learn all about Fairtrade – they will then make their very own Fairtrade mark using scrap paper and card.
You will need:
– Piece of plain A4 paper
– Magazines, packaging, scrap paper (any paper or card you would normally throw away!)
– Pencil or pen
– Glue
If you're booking this event with children, why not also book the Fairtrade Taskmaster event on 27 February – you'll see why!
This event is sponsored by Fairtrade Reigate.
This event has now finished
Friday 26 February 3-4pm
Fairtrade, the Climate Crisis and Engagement
Join Nilufar Verjee, Director of Public Engagement for the Fairtrade Foundation who will talk about how to engage people with the issues around Fairtrade and the climate crisis.
This event is part of Middlesex University's Fairtrade Debate Season
Friday 26 February – 6-8pm
Chocolate Has A Name – photographic exhibition
Farmers from Ghana who grow some of our world's premium cocoa and other custodians of our much loved confection, tell us their story.
This event comes to you via Africaniwa
Friday 26 February – 7-8pm
Join Ghanaian musician Richard Wiafe – who works at the Fairtrade fruit project Golden Exotics who will share his music and answer questions about his life. Richard's university studies are funded through the Fairtrade Premium.
Watch video about Golden Exotics
Read this article in the Independent about how Brexit is threatening imports of Golden Exotics Fairtrade bananas to the UK.
Richard says: 
"Lack of financial support almost made me give up education, until I was employed at Golden Exotics as a farm hand. I realised that I could get support from there, through the Fairtrade premium and am studying Bsc.in Integrated Development Studies. I actually want to become a Human Right activist/advocate
I discovered my potential/talent in music at an early age when I began to write and perform local Gospel songs but never recorded them due to financial constraints. As soon as I was employed at Golden Exotics I heard of Fairtrade and decided to learn much about it, at a point I decided to interrogate some of the workers in the company who are the beneficiaries of the Fairtrade premium, The response from them and the projects the Fairtrade premium committee had undertaken with the premium money inspired me to write and record my first song "Welcome Fairtrade". Subsequently I've written and recorded new songs titled "Choose the world you want" and "We stand with farmers". These songs are to support the upcoming Fairtrade Fortnight Festival in the UK with (Fairtrade Yorkshire Co-ordinator) Joanna Pollard who has been a blessing and a motivation ever since we knew each other.
I want to use my music as a tool to influence consumers of Fairtrade products and all stakeholders involved to inform them that the premium workers are receiving is being used for a good cause. It is my dream to work with Fairtrade to push this agenda far and make a reality. I have more songs to write and record for Fairtrade."
This event is sponsored by Bradford Fairtrade Zone
This event has now finished
Saturday 27 February 10am
Wake Up And Taste The Coffee with the Scottish Fair Trade Forum
This is your chance to hear from the Sholi Fairtrade Coffee Co-operative in Rwanda
Saturday 27 February 11-12am
Climate Change Coffee Morning with Fair Trade Wales
Hear from Ugandan coffee farmer Jenipher and taste her delicious coffee roasted in Wales
Saturday 27 February – 11-12am
Fairtrade Taskmaster – Join us for a Saturday morning of Fairtrade themed silliness. Fun for all the family with our Fairtrade themed Taskmaster event.
Join Little Alex Horne (yes – that one – yes, really!) as he sets you a series of tasks.
Who will be wearing the best Fair Trade Outfit? Who will make the best Fairtrade mark? (Hint: you can come along to our fairandfunky craft workshop on Thursday 25 February to help you with this)
Use the most Fairtrade products to create a superhero in the kitchen. How will you make your house look and feel like a beach? Who will make the most convincing rock star?
Use the Fairtrade colours to draw a monster with many legs – but not too many! How many Fairtrade items fit on a plate? Can you find 9 different items whose initial letters spell out the word FAIRTRADE?
Dress up as a cow and moo at a bar of Fairtrade milk chocolate. Do any of your books have pandas in them? Go and check. Go on. Yes, now.
There are ten great prizes to be won – Fairtrade Favourites colouring books and Fairtrade treats – with these creative and fun tasks.
If you're booking this event with children we recommend you also book the Fly The Fairtrade Flag workshop on 25 February – you'll find out why!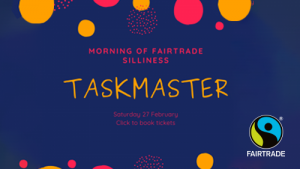 This event is sponsored by Good Taste – The Sheffield Fair Trade Shop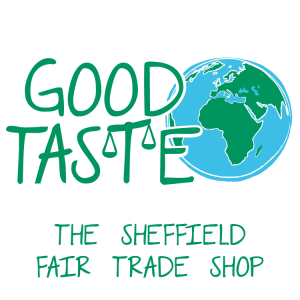 This event has now finished
Monday 1 March 4.30-6pm
Cook along with former Bake Off contestant Sandy Docherty
Join Sandy who will share her recipe for Meat Balls in Spicy Tomato Sauce using ingredients from Fair Trade supplier JTS.
Sandy's also given us some great vegetarian and vegan alternatives, Download the recipe to see what they are:
Fair Trade Meat Balls in Tomato sauce
Sandy says:
"I love the opportunity to share my passion with the public, baking and cooking have a universal language. I'm inspired by the public and thrive on their feedback and comments.  Fair trade, what a fabulous phrase, wouldn't it be amazing if everything in life were fair? But we know that Fair Trade is exactly that, It means to me that hard working farmers and workers receive fair trade and payment for what they produce, it supports their families, their pride and helps them build a future. What do I get in return? I get an exciting range of products, the highest quality ingredients and ultimately dishes that meet and surpass in flavour and value. "
This event is sponsored by Fairtrade Leeds.
This  event has now ended
Monday 1 March – 7-8pm
Good Taste – the Sheffield fair trade shop's 6th birthday celebration
Sheffield's fair trade shop is having a birthday party and you're all invited!
This is your chance to meet some of their suppliers – Traidcraft, Just Trade, Black Yak (based in East Yorkshire) and Artizan (based in Harrogate). They are all fellow members of BAFTS Fair Trade Network UK and you can hear how the last year has affected producers around the world.
BBC journalist Dan Walker presents a fantastic £12,000 cheque to Taste – the fantastic charity Good Taste supports, to see where some of your money goes. Taste brings clean water to rural areas of Nigeria.
Bring your favourite fair trade item and share your fair trade stories. There will even be cake (although sadly you won't be able to taste it)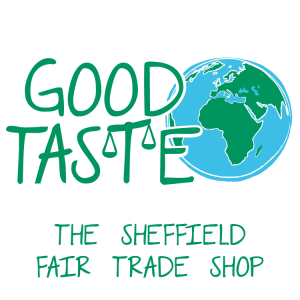 This event has now ended
Wednesday 3 March 3-4.30
Fairtrade Debate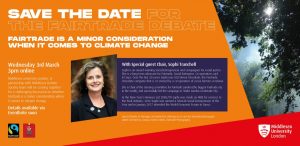 Join Middlesex University's student debate society who will be challenging the discussion around the proposal: Fairtrade is a minor consideration when it comes to climate change.
With special guest Chair Sophi Tranchell. Audience participation for Q&A.
This event is part of Middlesex University's Fairtrade Debate season
Wednesday 3 March 5-6
Discussion on ethical and sustainable production and consumption
In this event, Sussex DevSoc will be joining the city's Fairtrade group members to get insights on the evolution of Fairtrade, the impact of Covid-19 on farmers and workers and ethical consumption. Come to discuss the importance of promoting the voices of artisanal producers! Volunteering opportunities with the Fairtrade Brighton and Hove Group will also be available for those interested.
More about the speakers:
Christine Gent: "I am a supply chain specialist. With experience in Social Enterprises, UN bodies, and The Body Shop. Currently WFTO Fair Trade Expert for MADE51 a 100% refugee made brand, Non Exec director People Tree Fair Trade Group, and Global Community Director for Fashion Revolution."
Louise Mabbs: "I am a voluntary fairtrade representative for Traidcraft, and Tearcraft. I got involved as a teenager in the 1970s in Wirksworth, Derbyshire. In 1995, I started supplying our United Reformed Churches in London, then in Hove & Portslade and now at Brighthelm in Brighton among other local churches and groups."
Wednesday 3 March 4-5.30
Join a chocolate truffle making workshop with David Greenwood Haigh, an award winning chef, chocolatier and international chocolate consultant of Coeur de Xocolat.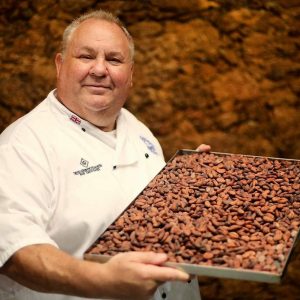 David says: I think I have the best job in the world travelling training people to make bean to bar chocolate and chocolate products, whilst helping to develop eco tourism and stimulating additional revenue in origin. And trying to elevate the gamers up the value chain.
But chocolate isn't just a treat or a sweet indulgence. It's an safari of the senses, that can take you across continents and into the heart of a narrative that reaches back for millennia.
It's a story of distant shores, of discovery and adventure. It's a story of of intrigue and political drama. It's a story of progress, of enterprise and science. Most of all, it's a story of passion – a passion that has conquered the world, and which continues to bring people together on a shared, delicious journey.
Download the details and recipe here:
FT chocolate Truffle Making at Home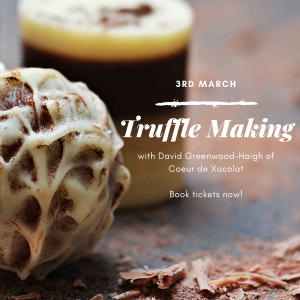 This event is sponsored by Bury Fairtrade
This event has ended
Thursday 4 March 11am
Join Bruce Crowther MBE in conversation with Kirklees Libraries Writer in Residence Christina Longden talking about his new memoir "Not in my lifetime – a Fair Trade campaigner's Journal". The book takes in Bruce's adventures in fair trade and in particular his connections with the International Fair Trade Towns movement which he was instrumental in founding.
Bruce will talk about his approach to writing the book and his life in fair trade.
This event will be accessed via the Kirklees Libraries YouTube channel
Watch Bruce's video to find out more.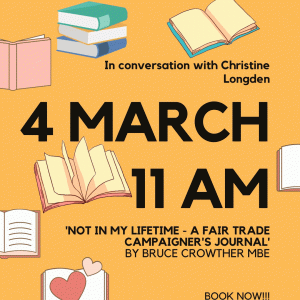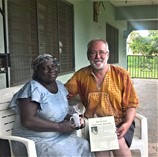 This event is sponsored by Fairtrade in Bolton
Thursday 4 March – 6-7pm
Young People in Fairtrade
Hear why the Fairtrade movement is more relevant than ever and how it supports and empowers young people as as we speak to Emily Pearce, Sustainable Sourcing & Fairtrade Manager at Co-op. There will be an opportunity for Q&A discussion on the themes too.
This event is co-ordinated by the Co-op Young Members' Group
Friday 5 March – 12 -1pm
Fairtrade in a time of covid – Join Immaculate Ochieno and Kodzo Korkortsi, Shared Interest's local managers who deal direct with producers in East and West Africa to find out how Fairtrade is supporting women's empowerment and helping producers survive and thrive through covid.
Kodzo Korkortsi, is the Programme Manager for Shared Interest Foundation.  He is based in Ghana and will give an overview of the Foundations recent projects including Bees for Business which is working with women beekeepers in Burkina Faso.  He will also talk about the Livelihood Security Fund which has been helping producers affected by Covid.
Immaculate Ochieno is Shared Interest's Lending Manager for East Africa. She will talk about projects that promote gender equality in the region.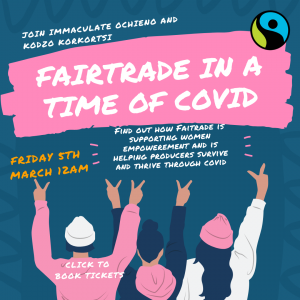 This event is sponsored by York Fair Trade Forum and Skipton Fairtrade Initiative
This event has now ended.
Friday 5 March 12.30-1.20pm
Corporate Social Responsibility Lecture Veronica Heaven Director of The Heaven Company
Veronica Heaven will explore the term corporate social responsibility (CSR) that refers to practices and policies undertaken by corporations that are intended to have a positive influence on the world. The key idea behind CSR is for corporations to pursue other pro-social objectives, in addition to maximizing profits. Examples of common CSR objectives include minimizing environmental externalities, promoting volunteerism among company employees, and donating to charity.
Friday 5 March 2.30pm
Panel discussion: Exploring the Sociocultural Life of the Banana
Why is the system behind bananas complex?
How does social justice relate to agribusiness?
Hear from Richard Wiafe (star of our music evening) what it's like to be a banana farmer
This event is organised by St Andrews University
Find out more and sign up via the Facebook event page
Friday 5 March – 6.30-7.30pm
PLEASE NOTE THIS EVENT IS NOW AT THE SLIGHTLY EARLIER TIME OF 6.30PM
Welsh poets Zoë Brigley Thompson and Kristian Evans, editors of "100 Poems to Save the Earth" will read from this life-afforming anthology which is due to be published in Spring 2021 by Seren Books.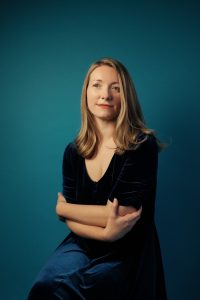 Zoë Brigley has three PBS recommended poetry collections: The Secret (2007), Conquest (2012), and Hand & Skull (2019) (all published by Bloodaxe). She also published the nonfiction essays Notes from a Swing State (2019). She recently published a chapbook, Aubade After A French Movie (Broken Sleep 2020), and in 2021, she will publish another chapbook, Into Eros, with Verve. She runs an anti-violence advocacy podcast: Sinister Myth: How Stories We Tell Perpetuate Violence. She won an Eric Gregory Award for the best British poets under 30, was Forward Prize commended, and listed in the Dylan Thomas Prize. She is co-editor (with Kristian Evans) of the forthcoming anthology 100 Poems to Save the Earth. She works as an Assistant Professor in English at the Ohio State University.
Zoe says
"For me, maintaining fair trade is about recognizing our interconnectedness in the world. It is far too easy to exploit labour in countries that are not our own, when we do not see the immediate and heartbreaking consequences of that. If we could raise the global standard of living it would have such a strong and immediate impact for us all, in fact on the climate crisis itself. But more than that fair trade is just the right thing to do."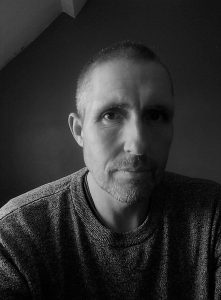 Kristian Evans is a poet and environmentalist interested in deep ecology. He is the author of Unleaving (Happenstance), and the online series A Kenfig Journal for Sustainable Wales. Together with Zoe Brigley, he is editing the forthcoming anthology, 100 Poems to Save the Earth (Seren 2021) and a special issue of Magma Poetry 79 on Dwelling (with Rob Mackenzie). You can see their articles about ecologies and poetry at Planet, Poetry Wales, and Wales Arts Review, as well as in a film on dwelling made in cooperation with Planet:  They have a co-written non-fiction chapbook Otherworlds out from Broken Sleep in 2021.
Kristian says:
"Like most people, I want to know where the products I need come from, how they were made, and how the people involved were treated and paid. We are no longer willing to accept that exploitation is an inevitable part of the price of the things we buy."
They'll be joined by Yorkshire based Clare Shaw, who'll read from her third Bloodaxe collection "Flood" on the themes of this year's Fairtrade Fortnight – "Choose The World You Want" and "Fairtrade, Climate and You".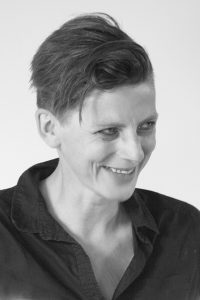 Clare Shaw has three poetry collections with Bloodaxe – Straight Ahead, Head On and Flood: her forthcoming fourth collection was awarded a Northern Writer's Award and will be published by Bloodaxe in 2022.
As an Associate Fellow of the Royal Literary Fund, Clare is responsible for establishing writing projects in workplaces across the UK. She is co-director of the Kendal Poetry Festival; and a regular tutor for the Poetry School, the Wordsworth Trust and the Arvon Foundation.
In her various roles as a writer, librettist, project leader and mental health trainer, she works with a wide range of organisations: these currently include the Royal Academy of Music, St Mungo's Community Housing Association, and the BBC.
PRESS
"'As a reader you cannot expect an easy time with Clare Shaw. She deals with the big subjects, war and conflict, violence and violation but also the subtler themes of language as a means of expression, identity and the difficulties of motherhood. She takes us to places we may be reluctant to go but more importantly she fixes her gaze on us and demands our attention and our involvement" (James Carruth, The North).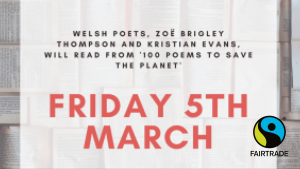 This event is sponsored by Embsay with Eastby Fairtrade Group
This event has now ended
We are sorry to be unable to bring you the full event recording due to copyright restrictions on the upcoming anthology 100 Poems To Save The Earth, however you can see the two sessions where Clare was reading from her collection Flood
Saturday 6 March 11.30-1pm
Get moving and learn Bollywood and Bhangra dancing with Avtar Panesar the host of our Indian dance workshop
Find out more via Avtar's website
Avtar says:
Namaste! My name is Avtar. Having Indian parents means traditional curries have always been a big part of my life – delicious food, full of flavor and spice. Great food is one of life's pleasures but when it is Fair food traded fairly, supporting global producers it enriches the heart, mind and soul.
I grew up listening to Bhangra music legends and watching iconic Hindi Bollywood films (from colourful happy sing-a-longs to tragic melodramas). I now run Indian dance and Cultural Education sessions in the heart of the south west to keep me in touch with my roots and India's rich culture.
Join us for a fun, easy to follow dance-a-long to happy and expressive beats of India.
Chalo Let's Nacho! – Come on Let's Dance!
This event is sponsored by Warrington Fairtrade Steering Group
The event has now ended
Saturday 6 March 9.30 – 11
Pocklington Fairtrade and Local Produce Action Group Coffee Morning
Read more about what Pocklington have in store for Fairtrade Fortnight 2021
Sunday 7 March 9am
Bradford Cathedral Big Fairtrade Breakfast
Bradford Cathedral is calling on everyone to join them for the online Big Fairtrade Breakfast on Sunday 7th March at 9am. Though the annual Fairtrade Breakfast cannot take place in the cathedral this year, it can still be held online. All you need to do is stock up on Fairtrade or locally-sourced breakfast items, and join people across the city on a Zoom-hosted breakfast!
BOOK VIA THE BRADFORD CATHEDRAL WEBSITE
Monday 8 March – 12 -1pm
On International Women's Day you can join our virtual tour of the Bethlehem Arab Women's Union. Meet the makers of the gorgeous crafts sold by Hadeel. 
See where the women work, learn their stories and watch as they create something before your eyes!
This event is sponsored by Edinburgh Fairtrade City
More events are being added all the time so keep an eye on this page and our Facebook page.
Official festival sponsors: All's Fair, Sonia's Smile, Hull Fairtrade Partnership, Beverley Fairtrade Group, Ilkley Fairtrade, Walkington Methodist Church, the Fairtrade Foundation and the National Campaigner Committee
Most of our contributors are happy to support us by donating their time free of charge but it's only right that we make a financial contribution to some – especially those joining us from the low income countries where Fairtrade works.
If you or your group would like to support the festival with a donation of any amount we're hoping to raise £750 with a Gofundme.
Donate to help make the Community arts festival happen
We can't wait to see you!