Campaigners in Cherry Burton are celebrating after "Fairtrade Village" signs were erected by the East Riding of Yorkshire Council on each of the four roads leading into the village. Thanks to the generous support of village-based businesses who funded the signs, the village now has visible reminders of its status for residents and visitors alike. Placing of the signs will fulfil the aim of raising awareness in the local community of the impact that choosing Fair Trade makes on people in the developing world.
Cherry Burton has been a Fairtrade Village for 13 years, and was the first community in the East Riding to be awarded Fairtrade Village status. Widespread support by individuals, organisations and businesses has meant that status has been successfully maintained over the years.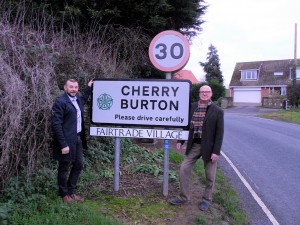 Pictured are: Adrian Hedges of I Love Kitchens and Paul Grundy of Elm Tree Farm B & B – two of the businesses who sponsored the signs. The other sponsors were: Mark and Jennene, The Bay Horse public house; Tom Ainley, plumber; Andrew Jeffrey, Kwikjet Cleaning Services; Kathryn Steels, North Bar Fabrics; Paul Staniford, Stanifords.com; and Pauline Greenwood, Burton Mount Country House.