World Fair Trade Day is the annual celebration of the global fair trade movement.  This year it took place on 12th May.  Big celebrations took place in Bradford when the last of the nine Fair Trade Way walks was completed.  The Lord Mayor of Bradford joined Fairtrade activists and praised the establishment of the Fair Trade Ways in Bradford District.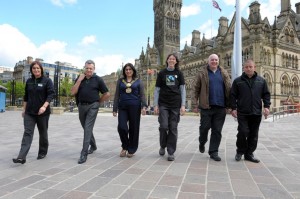 To find out more about the Fair Trade Ways, which cross some of Yorkshire's most dramatic countryside, please click here:
Karen Palframan, Chair of Fairtrade Bradford, thanked all involved and gave special thanks to the Coop for all their support for the setting up of the Fair Trade Way.
Linda Gomila, Co-operative and Membership Officer for West Yorkshire, said: 'It's vital that we continue to support our local communities…particularly when there is a link to something like the Fairtrade movement, which has the power to change lives and is a cause that is very close to our hearts. Whether a vanilla grower in India or a banana producer in Panama, Fairtrade is so important because it enables people living in some of the world's poorest countries to escape poverty and empower themselves and their families.'