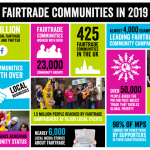 Fairtrade Fortnight events are going on all over the region.
NORTH YORKSHIRE
27 February – 6pm – SOFA SESSION Spurriergate Centre, York. This is our flagship event for Fairtrade Fortnight 2020.
Speakers include: Cocoa farmer Rosine Bekoin, Rachael Maskell, York Central MP, Sarah Wakefield, Food Sustainability Manager, Co-op, Sophi Tranchell, Managing Director of Divine Chocolate, Sophie Jewett of York Cocoa House and the Fairtrade Foundation's Julia Nicoara, Director of Public Engagement.
Click here to download the poster: FF20_Flagship_events_leaflet_York
Click here to download the press release for this event.2. Press release She Deserves regional events
28 February 10-30 till 12noon BIG BREW Fairtrade coffee morning at Fylingthorpe Methodist Chapel.
28 February – 1-2pm – FAIRTRADE TEA WITH COUNCILLORS – Celebrating 10 years of Scarborough as a Fairtrade Town, Scarborough Town Hall
29 February – 10am FAIR TRADE & LOCAL CRAFT FAIR Friends Meeting House, Malton
29 February 10.00a.m-12.00noon FAIRTRADE COFFEE MORNING at Cayton Methodist Church, Scarborough.
29 February 2.00pm-4.00pm FAIRTRADE AFTERNOON TEA St Andrews URC, Ramshill Road, Scarborough.
6 March – 7pm FILM SHOWING The Kite Runner, Clements Hall, York
7 March 10.00a.m -11.30a.m. FAIRTRADE COFFEE MORNING at Scalby Methodist Church, Scarborough.
EAST YORKSHIRE
18 February – 9.45 COFFEE MORNING All Saints Church, Pocklington
26 February 10-12 FAIRTRADE CELEBRATION Guildhall, Hull
3 March LORD MAYORS TEA Guildhall, Hull (invitation only for local campaigners)
WEST YORKSHIRE
22 February – 10-1 BIG BREW St Edmunds Church, Leeds
1 March – 8.45 – 9.45 BREAKFAST Bradford Cathedral – Book your place here.
4 March – 5.30-7.30 FAIRTRADE KIRKLEES GALA Huddersfield University Book your ticket here.
7 March – 10.30-1.30 COFFEE MORNING Methodist Centre, Chapel Allerton, Leeds
19 March – 11-3.30 FAIR TRADE FAIR Leeds University