This year World Fair Trade Day is on Saturday 11th May.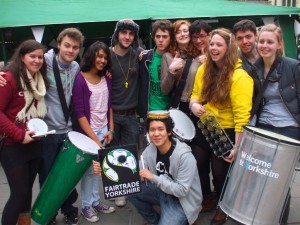 World Fair Trade Day is an international celebration for the global Fair Trade movement.  Do look out for events being held in your local area.
Make sure that you sign the Make Food Fair petition which will be handed to the Prime Minister just before World Fair Trade Day. Despite producing 70% of the world's food, over half of the world's hungriest people are smallholder farmers. The petition calls on David Cameron to go further and champion a better deal for smallholder farmers at this year's G8 meeting.
Please find below details of some events being held in York
The York Fair Trade Forum warmly invites you to a
World Fair Trade Day Community Meal

On Saturday 11th  May at St Columba's United Reformed Church, Priory Street, at 7.00pm.
A three course meal will be served including a mild vegetarian curry and home-baked desserts. A glass of Fairtrade wine or juice is included in the ticket price, and further drinks are available for a donation.
The evening will include entertainments from the Sounds Fun Singers and the Djembebash Drumming Group, and there will be a small raffle, with Fair Trade prizes kindly donated by local businesses.

Tickets cost £8 each, and are available from Fairer World, 84 Gillygate, York. Tel: 655116, or from Helen at fairtradeyork dot com
Please email Helen if you would like any further information.
We hope to welcome you to what promises to be a super evening, celebrating the importance of Fair Trade in our fair city.
World Fair Trade Day at Fairer World Shop
The retailer with York's largest selection of Fairtrade and fairly traded products, Fairer World at 84 Gillygate, will be celebrating World Fair Trade Day with Eswatini products to sample and a chance to enjoy a cup of Gumutindo Fairtrade organic ground coffee.  Do pop along on World Fair Trade Day, 11th May.