Supporters of the Enough Food for Everyone: IF campaign headed to London for a last push before the G8 meeting hosted by David Cameron.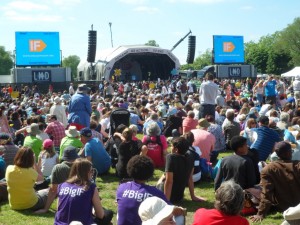 They rallied in Hyde Park on 8th June.
45,000 people came from across the UK to demand the changes necessary so that no one in the world goes hungry.
The Fairtrade Foundation had their own display at the event & Yorkshire was well represented with many coachloads of supporters making the journey south.
The IF campaigners were joined by Rowan Williams, Bill Gates and Myleene Klass.
One of the highlights of the day was the planting of the field of flowers.  The two million petals of the paper flowers represent the 2 million children's lives lost each year to hunger.  Lives that should never have been lost and we have a duty to ensure that policies change, so that children do not have to die of hunger and starvation in the future.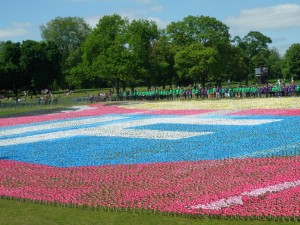 Read here of Oxfam's verdict on the G8 meeting and what has been achieved so far by the IF campaign.