Baildon
Baildon Co-op, Northgate, hosted a Fairtrade stall to display Fairtrade items on sale in the store.  Customers were encouraged to try a different Fairtrade tea selected from Assam, Indian Prince and English Breakfast; all stocked by the Co-op.  The manager, Mark Millman, has also made up a hamper of Fairtrade goods as the prize for a quiz open to all, the winner being announced at the end of the Fortnight.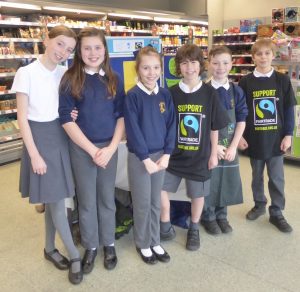 Six pupils from Baildon Church of England Primary School assisted on the stall during the afternoon, enthusiastically engaging people in conversations about Fairtrade and justice.  They were also taken on a tour of the store to see what Fairtrade products were available and asked questions about why certain items were not Fairtrade certified. Their teacher, Mrs F Wilkinson, said that the children had enjoyed a stimulating afternoon.  The school is working towards Fairtrade status and hosted a Fairtrade Coffee Morning on Friday 10th March for parents/carers of children in Year 5.  The children had baked Fairtrade goodies, and were very keen to explain Fairtrade to the adults who attended.
Bradford Cathedral
On Sunday March 5th, approximately 40 adults and children enjoyed a Fairtrade Breakfast at Bradford Cathedral, during Fairtrade Fortnight. their children to school. We enjoyed a breakfast that included Fairtrade muesli, jam, marmalade, chocolate spread, homemade muffins, tea, coffee, hot chocolate and orange juice. At the same time, we gave our support to local businesses by enjoying locally produced bread, butter, honey and milk. In the service that followed the Breakfast, the children led the prayers, 'that those who teach about justice and trading in our schools may look for new ways to share their interest in breaking the cycle of poverty so that children will know about the need for fairness in trade'.
Ilkley
Over the last few weeks, the Sanctuary team in Ilkley, including artist Barbara Macnish, have been pouring hours into preparing what we think may even be the world's first piece of art painted on tea-bags! It was all done for love; we wanted to help thousands of people think about the people who really bring them their tea, and to consider choosing Fairtrade as a result.