Students at the University of Leeds can enjoy a fair Christmas after shopping at the annual University Fair Trade and Christmas Fair held in the palatial surroundings of Parkinson Court.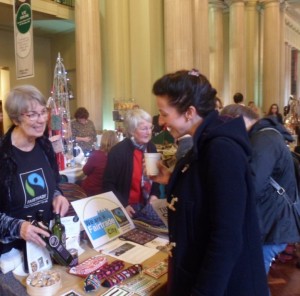 A wide variety of Fair Trade products was on sale including: food and drink items, handicrafts, fashion goods, accessories, stylish bags and jewellery.  Traders included Traidcraft, Oxfam and Fairer World.  Amongst the special Christmas purchases were Fairtrade christmas puddings, christmas cakes, nativity sets and dates from Palestine.
Members of Fairtrade Leeds set up a stall to sell Zaytoun products and to promote Leeds' status as a Fairtrade City.