The Fairtrade Yorkshire Steering group committee congratulated award winners, Amarjit and Jas' ,at their meeting at the University of Leeds on Saturday 9th November.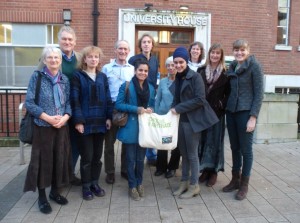 Amarjit and Jas' worship at the Sikh temple Guru Nanak Nishkam Sewak Jatha Leeds.  The temple was presented with the 'Best Outreach and Networking award' by Fairtrade Foundation CEO, Michael Gidney, at the national Fairtrade Supporter Conference in London on 5th October.
The award recognises the achievements and creativity of Fairtrade campaigners and supporters during the first half of 2013, including during the Fairtrade Fortnight campaign.
As well as organising events for Fairtrade Fortnight,  Fairtrade supporters at the temple also translated Fairtrade literature into Punjabi and wrote a document which links support of Fairtrade with insights from the Sikh faith.