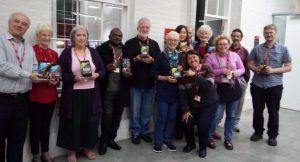 York Fair Trade Forum held its AGM and annual social on Monday 15 October.
The group heard about the great work the forum has been doing across the city working with both York University and York St John University, and holding a successful Fairtrade Breakfast in a city centre cafe during Fairtrade Fortnight. Attended by over a dozen local councillors the breakfast was featured on the local news programme York TV. The forum organises a Schools Conference every year and holds information and fundraising stalls at community events including York Pride.
The keynote speaker was Catalina Quiroz-Nino who is a visiting professor at York St John University. Catalina told the group about the COCLA co-operative who work with thousands of farmers and artisans in Peru, mainly in the mountainous Andean regions. Farmers from the co-operative grow, among other things, Cafe Direct's Machu Picchu coffee, one of the UK's best selling Fairtrade products. We learned about the challenges faced by farmers with climate change, coffee rust disease and the Peruvian government's policy to support mining at the expense of other forms of industry.
COCLA is keen to stress that the UN's sustainable development goals offer them the best future and urge all fair trade campaigners to promote these goals and help achieve them by 2030.

Tags: coffee, fair trade, Peru, York