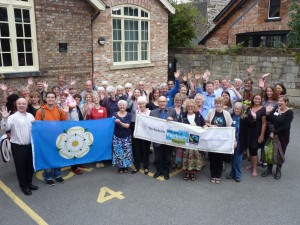 The Fairtrade Yorkshire Regional Conference took place last weekend and was the best-attended Fairtrade Yorkshire event so far. Campaigners were buoyed by the announcement of two new towns campaigning for Fairtrade status: Selby and Halifax. Over 70 supporters including both of York's MPs as well as MEP Linda McAvan.
In his speech, Julian Sturdy, MP for York Outer highlighted how the stability provided by Fairtrade contributed to security and peace in the developing world. Rachael Maskell, MP for York Central, also highlighted how it was contributing to tackling climate change. Linda McAvan, the founder of the European Parliament's Working Group on Fairtrade, brought us up to date on the negotiations over sugar cane subsidies that threaten the livelihoods of many in the developing world.
Fairtrade Yorkshire Co-ordinator Mark Dawson revealed that Selby and Halifax were launching campaigns to become Fairtrade Towns. The Fairtrade Selby campaign launches on November 19th with the opening of its first Fair Trade shop: All's Fair, which will be on Micklegate in Selby. The Fairtrade Halifax campaign will launch on October 23rd.
The keynote speaker was Barbara Crowther, Director of Policy & Public Affairs at the Fairtrade Foundation. She described a recent research trip to visit farms in Tunisia, a relative newcomer to Fairtrade. Attendees heard how the extra money from Fairtrade sales allowed farmers to invest in the future security of their farms by fighting back the desert – using irrigation run-off water to build a buffer zone between the farmland and the desert. These areas were becoming rich with native wild flowers and insects. Selling through the conventional market would not cover the costs of such projects.
Workshops took place covering subjects including the role of the church in the Fairtrade movement and the growth of Fairtrade sales within developing countries. Karen Palframan, of Bradford Fairtrade Zone and Ilkley Fairtrade Town, was re-elected to represent Yorkshire campaigners on the Fairtrade Foundation's National Campaigner Committee.