The fairandfunky Fairtrade Football Fun Day welcomed Primary Schools from across Kirklees to Honley High School for an afternoon of football and Fairtrade focussed games, activities and co-operative learning.
All fairandfunky workshops encourage participants to look at the world around them and empower people of all ages with the knowledge that their actions can make a difference. This event focussed on Fairtrade, and students discovered throughout the event that you can make a difference with Fairtrade even as you play football!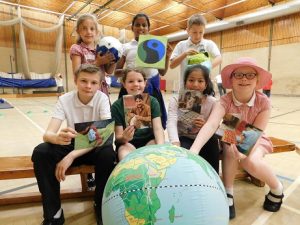 All students were able to recognise the Fairtrade mark and spoke confidently about how
Fairtrade guarantees a fair price is paid to farmers. But how can a football be Fairtrade? It doesn't grow on a farm?!
"It's all about the people. That's why. The Fairtrade mark shows a person, its paying people properly that makes a football Fairtrade." Student from Wilberlee J&I School
Workshops led by fairandfunky enabled students to meet the people in Pakistan who make Fairtrade footballs for Bala Sports UK. They discovered that over 700 stitches go in to 1 football, and that the balls are stitched by hand, taking 4 hours to make. Students discovered the difference Fairtrade has made to communities; with Fairtrade premiums being invested in water sanitation and free eye tests.
Throughout the event students played football with balls made especially for fairandfunky, in Pakistan. It was very exciting to know exactly where the balls were from, and who made them!
With Nigel from Suma Wholefoods students played a game of 'Un-fair football' – the rules kept changing and it was only when the team played co-operatively together could they achieve success. Project Sport taught tricks for successful keepy-uppys and volunteers from Camira Fabrics held a 'Beat The Banana Goalie' competition! Successful goal scorers were rewarded with a fruit kebab thanks to Holmfirth Coop.
Children all over the world play football, but not everyone is able to afford to buy their own, so what do they use? They make their own footballs using rubbish! Students had a go at making their own football from plastic bags, newspaper and string. They soon discovered how hard it was, and spent time thinking about how hard people work to make the footballs they'd all been playing with. It's important that workers are paid fairly, especially when you consider the amount of money generated in playing football. It's time to play fair.
And that's what all the schools who took part will be able to do. Thanks to sponsorship from Suma Wholefoods each school will be presented with Fairtrade footballs made especially for them – to play fair, and think fair.