The Church of England super Diocese of West Yorkshire and the Dales has voted to work to become a Fairtrade Diocese.
A vote was taken at the Diocesan Synod on March 12th.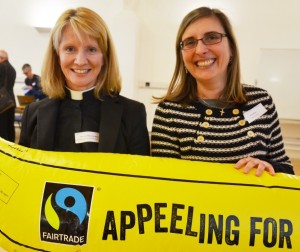 Synod members enthusiastically supported a motion to work towards becoming a Fairtrade Diocese by writing to all churches asking them, where not already registered, to register as a Fairtrade Church.  A letter will also be sent to all Church of England schools asking them, if not already registered, to register as a Fairtrade school – and a Fairtrade steering group will be set up to steer the registration of the Diocese as a Fairtrade Diocese.
The motion was put by Ven Bev Mason, Archdeacon of Richmond and Craven, pictured left with Kay Brown, Chaplain of Abbey Grange School who talked about the way schools can imaginatively adopt Fairtrade status.
The vote follows a campaign by Fairtrade supporters including: Barbara Judd, Heather Grinton and Rev Tina Walker who have worked hard to raise the profile of Fairtrade across the Diocese. Rev Tina said that she was 'absolutely delighted and thrilled' by the result of the Synod vote.