Fairtrade Yorkshire backs Oxfam's food justice campaign, Grow, which aims to support small scale farmers.  A major issue that Oxfam has focussed on is the issue of land grabs.
Every second, poor countries lose an area of land the size of a football pitch to banks & private investors.
Families are being evicted from their land – sometimes violently – and left with now way to grow food or earn a living.
Oxfam supporters in York drew attention to this issue with a march from the University of York to the Minster.  The Minster was symbolically 'land grabbed' and an eviction notice served.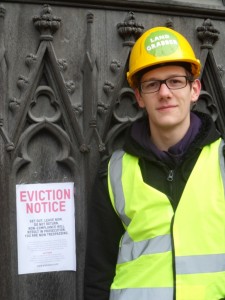 The eviction notice was served without warning, an experience hundreds of thousands of poor farmers are now facing.
Poor families are often evicted from their homes and their land without fair treatment or compensation.
Support Oxfam's Grow campaign and help put large scale land deals on hold until a fairer way can be found – to protect the rights of poor people whilst encouraging development.
Click here for more details: Land Grabs