Fair trade activists gathered at the Priory Street Centre, for the York Fair Trade Forum Annual General Meeting.
A full team of enthusiastic candidates was elected, to help run the group and its many activities that take place across the city.
Helen Harrison gave an annual report which highlighted the thriving nature of the group.
Guest speaker, Professor Bob Doherty, of the University of York Business school, praised the role of grassroots activists in the Fair Trade movement.
Although Fair Trade has become 'mainstream' in some senses, he argued that now, more than ever, Fair Trade activism is needed to encourage businesses to drive up their ethical standards.  Shoppers who are concerned about the impact of their purchases on producers in developing countries, should support Fair Trade pioneering businesses such as: Divine Chocolate, Traidcraft and the Cooperative.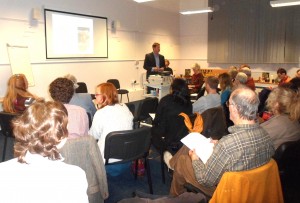 Bob argued that, it is businesses such as these, who go further to assist the well being of producers, and who are willing to innovate, helping to raise standards and introduce new products, that will take Fair Trade to the next level.
You can watch the whole of Bob's speech on YouTube below: