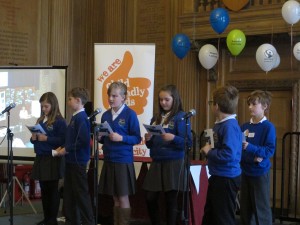 "The best presentation I have ever seen," was the response from the Fairtrade Foundation's Education Campaigns Manager, Kate Jones after watching a Leeds' school present on how they became a Fairtrade School.
Six children from Otley All Saints school wowed Kate Jones with their visual and humorous presentation which gave lots of examples of the activities the children have been involved in to raise awareness of Fairtrade. The presentation was part of the Global Fairness School celebration at Leeds Civic Hall on October 18th, which was opened by Deputy Director of Children's Services at Leeds City Council, Paul Brennan.
Mr Brennan used his speech to promote Leeds Child Friendly City initiative by drawing parallels between Martin Luther King's "I have a dream" speech to the struggle for all children to access their rights today.  Other workshops were delivered by theatre company Blah Blah Blah on freedom from slavery, Just Trading Scotland on the 90kg rice challenge, YMCA on Ugandan street children and Leeds DEC on ethical trade and modern day slavery. "I've got lots of ideas to do a Fair trade day at school" remarked one 9 year old participant.