Faith leaders were leading the way at Leeds' Merrion Centre on Thursday 3rd March with the holding of a Fairtrade breakfast.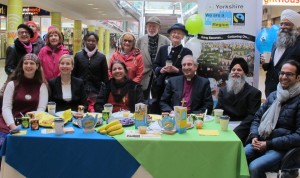 The Breakfast table looked very festive, with the banners and balloons and lots of shoppers paused to see what was going on.
There was a display of Fairtrade items for sale from the local Morrisons and also a display of Fairtrade items from the Beehive, the local Fairtrade shop.
Leaders from all faiths in Leeds were invited.  Amongst the attendees pictured are Bishop Paul Slater, Esther Hugenholtz, Krystal Holms, Gurmukh Singh, Usha Bhardwaj, Mr Birdi and Ashraf Hamad. It was lovely for everyone to mix and chat and at the same time have a grand breakfast.
Children have also been taking a lead in Leeds.
Schools from across West Yorkshire celebrated Fairtrade by designing and delivering their own workshops at a special event at Leeds Civic Hall on Friday March 4th.
The event, organised by Leeds Development Education Centre and Fairtrade Leeds is part of a wider national programme which aims to raise awareness of the millions of farmers and workers struggling to feed themselves and their families, while supplying our breakfast tables with food and drink, such as bananas, cocoa and coffee.
Fabian Hamilton MP presented schools with Global Learning Charter certificates, for work on valuing Global Learning within school. Greg Mulholland MP presented Bala footballs to students from local schools and then gave a short speech in which he encouraged local sports teams, such as Leeds Rhinos to use Fairtrade sports equipment. Greg congratulated Fairtrade as an organisation for branching out beyond food to other sustainable products, such as the Fairtrade footballs and Rugby balls.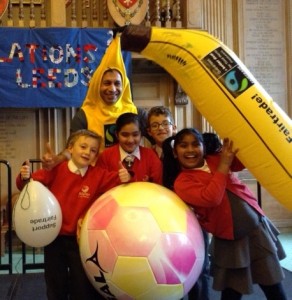 Last week Greg highlighted the importance of Fairtrade Fortnight in the House of Commons by tabling an Early Day Motion (EDM 1137) welcoming Fairtrade Fortnight 2016.
Commenting, Greg Mulholland MP said:
"I really enjoyed attending this fantastic event, which was very well organised by Leeds Development Education Centre. It is important that young people especially are encouraged to learn about Fairtrade produce and where their food comes from. As the consumers of the future, they have the power to change Britain's buying habits.
It is terrible that the people we all depend on to grow food are not able to feed themselves and their families. Fairtrade do excellent work supporting these people, but more must be done to support the hundreds of millions of people going hungry across the world."
Also commenting on the event, Hannah Langdana of the Leeds Development Education centre said:
"It was a fantastic event with children from across the city creating and delivering wonderful, hands on workshops on Fairtrade . It is another important step in making Leeds a Child Friendly City, where awareness about children's rights locally and globally is raised. "