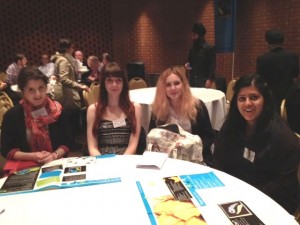 On the 5th of October, four students from Notre Dame Sixth Form College's Fairtrade committee; Aneka, Rowanne, Katy and Hannah; travelled down to London to attend this year's Fairtrade Supporters Conference.
This is an annual event which allows the students to join fellow Fairtrade campaigners and share ideas. There are also opportunities to hear from inspiring global speakers, meet like-minded people from around the UK, explore ideas for their campaign and find out what we will be campaigning for in 2014.
The day included introduction talks from the Heads of the Fairtrade Foundation, Kevin McCullough and Jonathan Smith, as well as contributions from Michael Gidney, the Chief Executive of the Fairtrade Foundation, James Mwai, Acting Executive director of Fairtrade Africa and Renwick Rose representing the Windward Islands Farmers Association.
In the afternoon there were a series of breakout sessions where students attended events focussing on the important issues for Fairtrade campaigns like how to use social media effectively and the importance of engaging local businesses.
Students also had the opportunity during the day to attend a creative workshop and to sample a range of Fairtrade products and network with suppliers.
The students all enjoyed the day and said that they had learned a lot about Fairtrade, in particular how it improves the lives of others and how to develop their own campaign within Notre Dame 6th Form College.
All four students have returned keen to share their experiences with other members of the Fairtrade group and to ensure that they have the best campaign strategy possible.