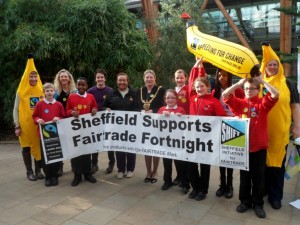 The fortnight is over for another year – and what a packed one it was in Yorkshire!
Check out our photo gallery roundup of the events taking place across the region – including the tour of our guest banana grower, Aimeth Angulo from Colombia.
Aimeth Angulo's whistle-stop tour of Yorkshire took in Hull, Immingham, Leeds, Malton, Bradford, Hebden Bridge, Keighley, Thornton, Sheffield, Harrogate, Holmfirth, Skipton, York and Cherry Burton. Thanks to all the local groups who hosted her.
Check out the photos gallery of the tour and other events taking place across the region:
Foncho in Parliament
London, 26th February – Not in Yorkshire, but a special mention for an event organised by Fairtrade social enterprise fairandfunky at the House of Commons. Children from Upperthong school in Holmfirth met MPs and the face of the 2014 campaign himself, Foncho Cantillo.
It's not too late to Stick With Foncho – if you haven't done so already, sign the petition here.
Leeds celebrates ten fair years
Leeds, March 7th – Leeds became a Fairtrade City during Fairtrade Fortnight ten years ago. It marked its tenth anniversary with a big bash at the Civic Hall with local schools, MPs, the Lord Mayor and our touring banana grower, Aimeth Angulo. The schoolchildren took part in activities such as Fairtrade pass the parcel, pin the Fairtrade banana on the world map and Fairtrade sensory challenge. The Fairtrade Bake-off was judged and a group from Sinai Synagogue was awarded first place by the Lady Mayor of Leeds for their delicious Chocca Mocha Cake.
..and so does York!
York, March 8th – York achieved Fairtrade City status at the same time as Leeds back in 2004. After an afternoon spent bringing the Stick With Foncho campaign onto the streets, a civic reception was held in the Mansion House. The Lord Mayor and Sheriff welcomed our roving Colombian grower Aimeth, along with Fairtrade campaigners, city councillors and local MP Hugh Bayley. Then afterwards it was over to York's historic Guildhall for a celebratory party.
If you've got photos of your event, please send them to us! Email richard (at) fairtradeyork.com