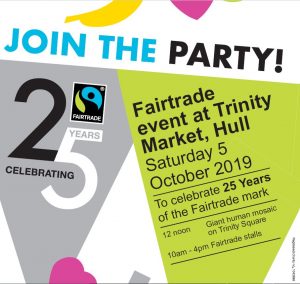 Saturday 5 October sees Yorkshire celebrating the 25th birthday of the Fairtrade mark. We're planning for around 150 campaigners and volunteers to amass in Hull's Trinity Square to create a giant human mosaic in the shape of the Fairtrade mark. The volunteers will be a mix of local supporters of Fairtrade and Absolutely Cultured volunteers.
Here are the timings:
10-4 fair trade stalls in Trinity Market
10.30 – 11.30 registration and collect your hats and T shirts
11.45 gather in Trinity Square
12 noon – the Lord Mayor will kick off the event and the drone will start to take video and stills
12.30 likely end of mosaic
There will also be other activities throughout the day including performance art on the square and craft workshops inside Trinity Market.
Watch That's TV Humber's interview with our Co-ordinator, Joanna and Eve from Samsara Crafts one of Hull's fair trade shops. They talk about the event and the 25th birthday of the Fairtrade mark.
Fairtrade Yorkshire have recruited 150-200 volunteers in who will be assembled in a giant human mosaic in the shape of the Fairtrade mark to celebrate its 25th year.

Posted by That's TV Humber on Thursday, 12 September 2019
Here are some responses from Hull Fairtrade campaigners who are getting involved on the day:
Hull has a long history of fighting for what is right going back to before the days of Wilberforce.  That spirit is alive and well today, giving rise to Hull as a Fairtrade City and all that involves.
Chocolate has been one of our passions and we are proud to have the Divine Chocolate UK warehouse within our city boundaries, and chocolate has often figured highly in our campaigning for Fairtrade. 
Over the years we have engaged with many communities, schools, churches, businesses, etc., and Fairtrade Labelled chocolate has often been the product that started the conversation, the label leading on to talk about Tea and Coffee and all of the thousands of products which are traded in an ethical and sustainable manner. 
So for Hull to be a focal point for 25th birthday of the Fairtrade mark, is just brilliant!
Peter
We first heard about Fair Trade back in 1981 when it was still a relatively new concept.  The ideas gradually became more widespread until in the late 1990s Fairtrade labelled products burst into the supermarkets.
Now we can get delicious Fairtrade coffee and tea everywhere, even on holiday.  To be part of this expanding movement is exciting and exhilarating.  However, more needs to be done, so we are still actively taking part in promoting Fairtrade , including the 25th birthday party for the Fairtrade Mark.  We hope that in another 25 years there will be no need for the Fairtrade Mark.  All trade will be fair!
Chris
How can you help?:
If you are available for a few hours 11am to 1pm on Saturday 5 October this is your chance to become part of a nationwide campaign. The event will be filmed and photographed and the resultant photos and film will be used in local, regional and national publicity for the 25th anniversary. You can just turn up and join in on the day, come along to Trinity Market Hall by 11.30 and we'll make sure you have the right clothing. All volunteers will receive a goodie bag as a Thank You.
Download the flyer and Press release here and share them with your networks.
Press release – Hull Fairtrade at 25
25 years – product press release
The Facebook event is here. Please share it with your networks.
If you're holding your own celebration of Fairtrade's 25th birthday, or if you want to show your support via your social media, you can get resources and download social media images here.