Haworth, the world's first Fairtrade Village, was the chosen destination for a Fairtrade fact-finding visit by Megumi Morita from Japan. She is from Zushi, Japan's third Fairtrade town, which lies on the coast, south west of Tokyo.
After attending the recent International Fair Trade Towns conference in Saarbrucken with Bruce Crowther MBE, founder of the global Fairtrade Town initiative and Director of the Fig Tree, Megumi came to the UK to discover more about collaborative Fairtrade initiatives in this country.
Haworth Fairtrade Group members organised an informative itinerary, which included visiting West Lane Baptist Church, the Bronte Parsonage, Sonia's Smile Fair Trade shop and the KWVR station in Haworth. The day started at the church cinema with photos and videos from past Haworth and regional Fairtrade events such as 'Chuffin' Fair', 'Fair Intents', the cycling Fairtrade bananas 'Tour de France' video (filmed in Haworth for Fairtrade Yorkshire, see www. fairtradeyorkshire.org.uk), the 'Sit down for breakfast, stand up for farmers' KWVR steam train Fairtrade breakfast, and this spring's Fairtrade and Bronte walk from Thornton to Haworth.
Megumi gave a presentation about Zushi's activities to gain Fairtrade town status and there was time for her to discuss wider campaigning issues with Keighley Fairtrade group member and Bradford Council Fairtrade champion Cllr Adrian Farley, and chair of Bradford Fairtrade Zone, Karen Palframan. Diane Fare hosted Meg at the Brontë Parsonage Museum and explained more about Rev Patrick Brontë and his campaigns for social justice, including better sanitation, education and workers' rights.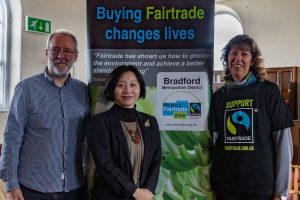 Bruce Crowther confirmed, "It was a pleasure to bring Megumi to Haworth on behalf of The FIG Tree Fair Trade Centre as part of her tour and see how the Haworth campaign is supported by the schools, churches, local authority and businesses. We were both impressed to see the number of Fair Trade events held in and around Haworth since becoming a Fairtrade Town in 2002 and how the campaign connects with the tourist attractions and local heritage. We now have 2,000 Fair Trade Towns in 29 countries."
Many thanks to Liz Barker and Worth and Aire Valley Magazines for kind permission to reprint this article.  Thanks also to John Sargent for the photographs.