Yorkshire will be declared as a Fairtrade Region on the 18th January.
The historic day will be marked by an afternoon celebration for schools, activists & retailers in Leeds & a formal declaration in the evening.  This will take place in York and will be attended by the Lord Mayor and the Archbishop of York.
Political figures from across the region will be supporting us, including the MP's Hilary Benn, Greg Mulholland & Julian Sturdy & Linda McAvan MEP.
In the morning there will be a celebration in Ilkley, open to everyone:
Declaration of Yorkshire as the UK's first Fairtrade Region:  Fairtrade Coffee Morning and Celebration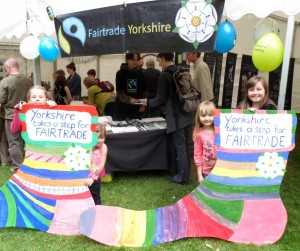 Join us to celebrate Yorkshire's successful bid to be the UK's first ever Fairtrade Region.
Everyone is welcome.  Free event.
When? Friday 18th January 2013, from 10am to 12 noon
Where? Riddings Hall, Christchurch, The Grove, Ilkley
At 11am Bruce Crowther, the founding father of the Fairtrade Towns movement, will make a declaration speech.  There will also be music and the singing of our Yorkshire anthem 'on Ilkley Moor Bar T'at.'
Do come along.
Event kindly sponsored by Coop Membership.