Fairtrade activists gathered in Acomb for the annual Acomb Green Fair which is held on the traditional, triangular shaped, village green.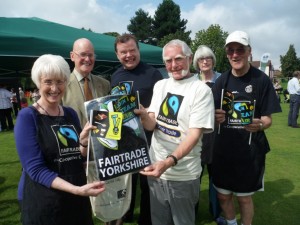 The Fairtrade stall drew in the crowds, as chocolate samples were given out, as well as Fairtrade leaflets & information on Oxfam's Grow campaign.
Supporters also gave out hundreds of leaflets promoting Fairtrade Yorkshire.
Other attractions at the Fair included a steam locomotive and the rousing sounds of the Mardi Gras jazz band.