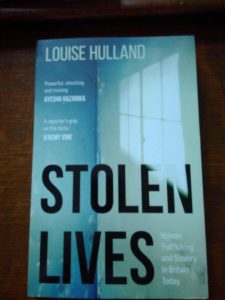 On a recent shopping trip I was disappointed  by the hugely reduced range of nail polish available to buy in my local Superdrug store. I worked for the retailer in in the early 2000s when we sold hundreds of different shades and brands. It was a mystery to me how demand could possibly have reduced so much in a just a few years, since I was still seeing women with painted nails. Then it struck me with increasing horror. There's no longer any need to pay £10 for a bottle of nail polish – and the base and top coat if you're going to do it properly – when for the same price you could go to one of the myriad nail bars that pockmark our high streets and have them done for you. Many people would call it pampering. But the Vietnamese woman who does your nails is so far from pampered she may not even be paid. And she is more likely than not to be a modern slave.
In 2015 I was invited by Baroness Lola Young to attend the launch of the Modern Slavery Act. It was an opportunity to enjoy afternoon tea at the House of Lords, so of course I couldn't refuse.
But the whole point about modern slavery – like so much of the broken global system of trade – is that the people trapped in slavery can't refuse either. They have had all their choices taken away, along with their paperwork and money. From Vietnamese teenagers trafficked into the UK to work on cannabis farms, to Slovakians washing your car by hand for £3 a time, and homeless British men taken off city streets to work on farms, made to live, eat and sleep with animals, modern slavery is now so prevalent that it has popped up as a storyline in the perhaps incongruous setting of Ambridge. The Archers – not long after tackling the then little understood issue of coercive control in relationships – is showing how modern slavery is easy to miss since it hides in plain sight.
Louise Hulland's book looks at all aspects of modern slavery with a keen, incisive eye and a compassion for victims. Threaded through the book is the story of Albanian woman Elena. Lured by a "boyfriend" to Belgium where her papers are taken, Elena finds herself in a brothel and eventually due to a kindly lorry driver she escapes – heavily pregnant – into the British system. Victims who are so scared of their bosses and the authorities that they resist attempts to save them, and are so traumatised by their experiences that their accounts are inconsistent, do not make credible witnesses. Louise shines a bright light on the labyrinthine, almost Kafkaesque, complexity of the hostile environment which aims to support victims and prosecute bosses, while still treating victims as potential illegal immigrants.
While supporting the right of workers to decent pay and conditions wherever they are is close to the hearts of trade justice campaigners, perhaps most relevant to our movement is the persistence of modern slavery in complex supply chains. The second principle of fair trade is "Transparency and Accountability" and it would be difficult to imagine anything further from most conventional models of trade than the fair trade model of full traceability. The people who import and sell fair trade goods in our independent fair trade shops understand how important it is to be able to tell the story. Regular visits, audits and inspections are part and parcel of what it means to be a fair trade organisation. This is easier for small importers who know their suppliers by name, but what about bigger organisations? Our old friend the Co-op comes out of Louise's book very well, with a long interview with Paul Gerrard (The Co-op's Campaigns and Public Affairs Director) who gives a few key pieces of advice for other retailers who could be doing more. M&S also merits an honourable mention, with their Interactive Map showing all their suppliers all over the world which you can search by sector.
Slavery was not abolished in 1807, 1833 or 1865. It remains endemic, especially in complex supply chains or places where the rule of law does not reign supreme. This book will empower consumers and activists to keep our eyes open, question and tackle the root causes. It should also make you decide that your next afternoon tea will be Fairtrade.
If you want to buy this book, please try to avoid Amazon. Buying from your local bookshop helps support family businesses, or you can order from Hive to get it delivered there, at home or as a download.